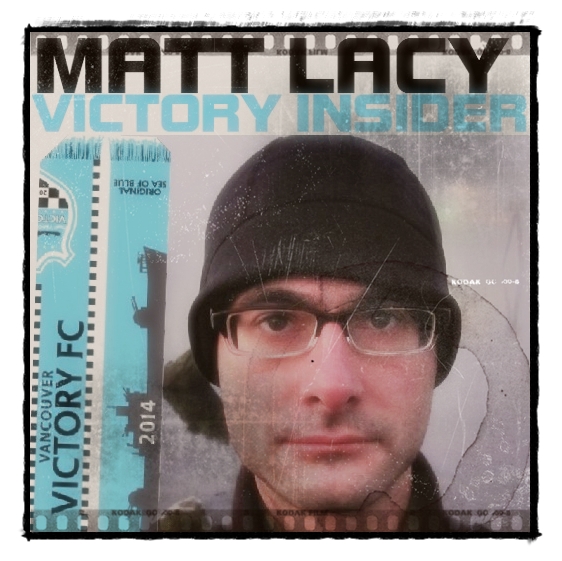 Matt Lacy writes about Vancouver Victory FC for V2FC.com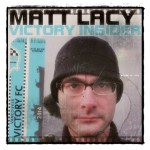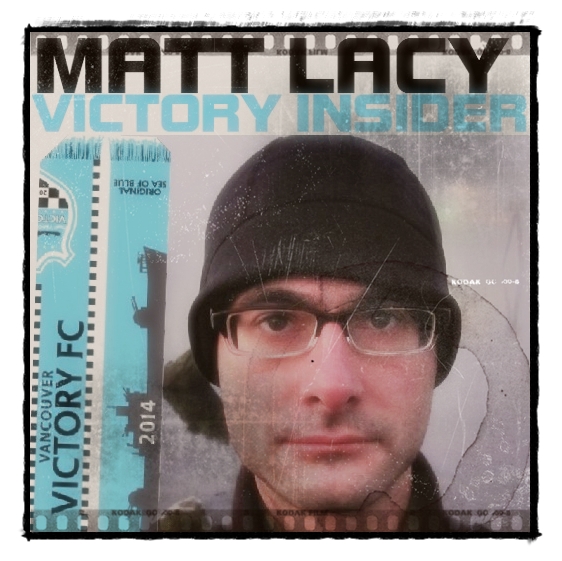 July 20, 2014 – The Victory Fall to South Sound FC
by Matt Lacy

Vancouver, WA. The Vancouver Victory fell to South Sound FC, 2-0,
in their final league match of the season at McKenzie Stadium in front of 380 supporters. On a beautifully cloudy day with a few sun breaks, the Victory out shot the Shock 15 to 5, yet it was not enough to surmount two second half goals from Derek Johnson and Miguel Angeles.
The first half contained great passing and good shots from both sides. "I thought you saw two good teams feeling each other out." said Assistant Coach Sean Jansen. "We played very defensive at first and then settled in, we opened it up a little bit. It was pretty even both ways, we had some looks and they had some looks. I thought our defense played very disciplined, especially in the central. I think that was probably the first half for me, pretty balanced."
One of those good looks came in the 12th minute from a trio of Victory players. Wearing their blue tops, white shorts, and checkered socks, Jordan Jones, Nick Palodichuk, and Bryanth "Pappa" Garcia-Junco combined to set up a great shot for Jordan Jones that went just over the bar.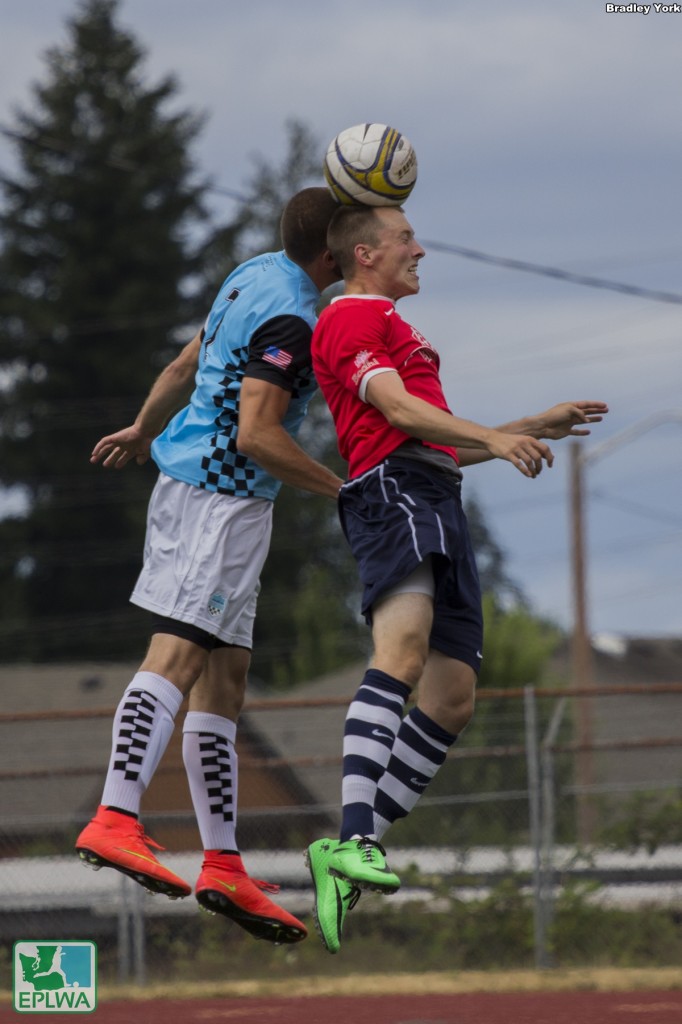 Garcia-Junco was sending balls and taking on opponents like fiend. "I'm just trying to keep it calm and do my thing, I feel comfortable in the middle. I'm always feeling comfortable in the middle." says Garcia-Junco. "Biniam always puts me in the back, trying to find my forwards and just trying to provide for the team some kind of support on defense and offense, too."
In the 23rd minute, wearing red tops, navy shorts, and navy and white striped socks, the Shock earned a free-kick at 25 yards out. Taylor Jackson sent in a screaming torpedo to the lower right that forced Victory keeper, Jordan Farr, to dive deep to keep it out of the net.
There were solid runs of play where both sides looked threatening. However, at halftime, it was zeros all around and the tension mounted. Victory defender, David Boldt stated, "We went into halftime knowing we felt like we were on top and doing well. So we just went into the locker room deciding to do our same thing and just relax and the goal will come. Unfortunately, our defense just lost focus there at the end and they got one on us and that just kind of broke us down. We couldn't handle the pressure after that."
And that break down came from a millisecond Vancouver lapse in the 47th minute off a Shock corner kick taken by Jay Hardy. He pinpointed that ball directly to the left post where Derek Johnson's left boot handily put it into the back of the net. 10 South Sound.
Then came the Victory storm where they just pummeled the Shock back line. Victory Head Coach Biniam Afenegus stated, "At halftime we talked about how our best defense is going to be offense and we changed our formation into a 442 to have two forwards and that just gave us more momentum to attack and attack and keep possession. And we talked to them at halftime, we just got to keep pressing and we out shot them 70% to 30% the second half and had a couple of really good opportunities, we just didn't convert. I thought our boys did a great job in staying to the game plan we gave them at halftime, about pressing and getting opportunities."
But that positive Victory momentum broke just a little in the 74th minute. All that Victory pressure left open Farr's back line and the Shock earned a one versus one situation, forcing a brilliant save from the net-minder. The Shock player beat the one Victory defender, but Farr foiled the worm burner to the right with an outstretched hand, pushing it out. The crowd cheered.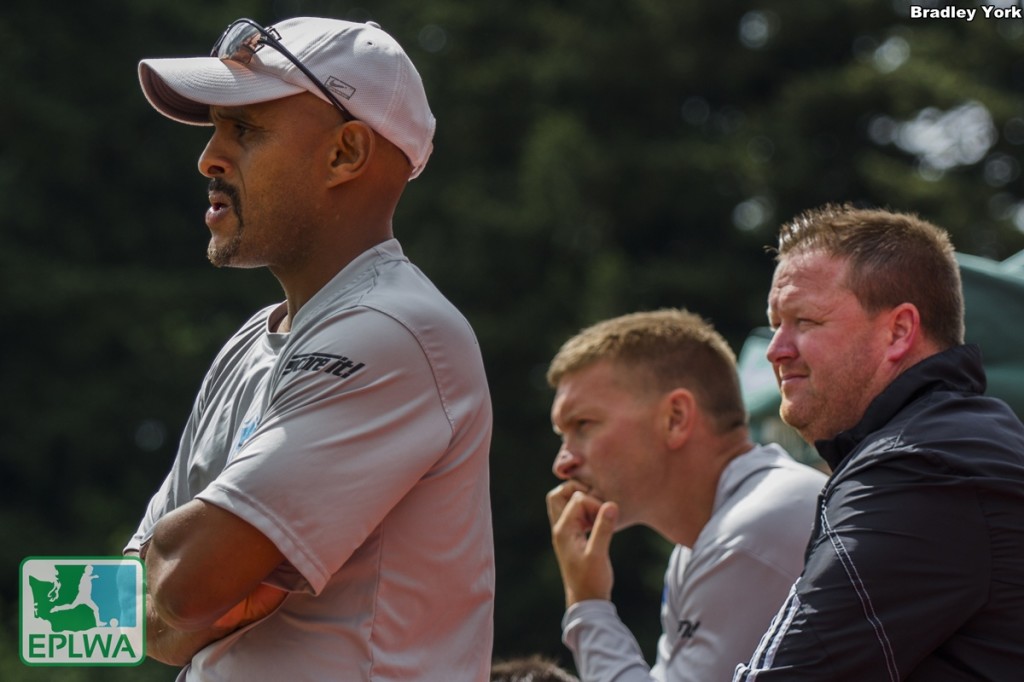 The final goal of the game came in the 83rd minute in an odd run of play where Shock man, Miguel Angeles, needled his way between a Victory defender and keeper ball exchange. He popped the ball out out from underneath them with a high kick and it found the back of the net. 20 South Sound.
Heroic attempts were seen from the Victory throughout the second half through fancy footwork, threaded balls, and pure grit from the likes of Jamoy "Bling" Stevens, Jones, and Yoshikazu Hayashi. Hayashi had a great showing out there. "When I got into the field we were losing, we should score at least one, we try to score two goals but the game changed." said Hayashi. "I have to play defense a lot because they have the possession. I had a chance to score, I am so sad I didn't score it." But that chance in the 86th minute came after a Herculean effort down the right side and a brilliant exchange with a holding Victory forward.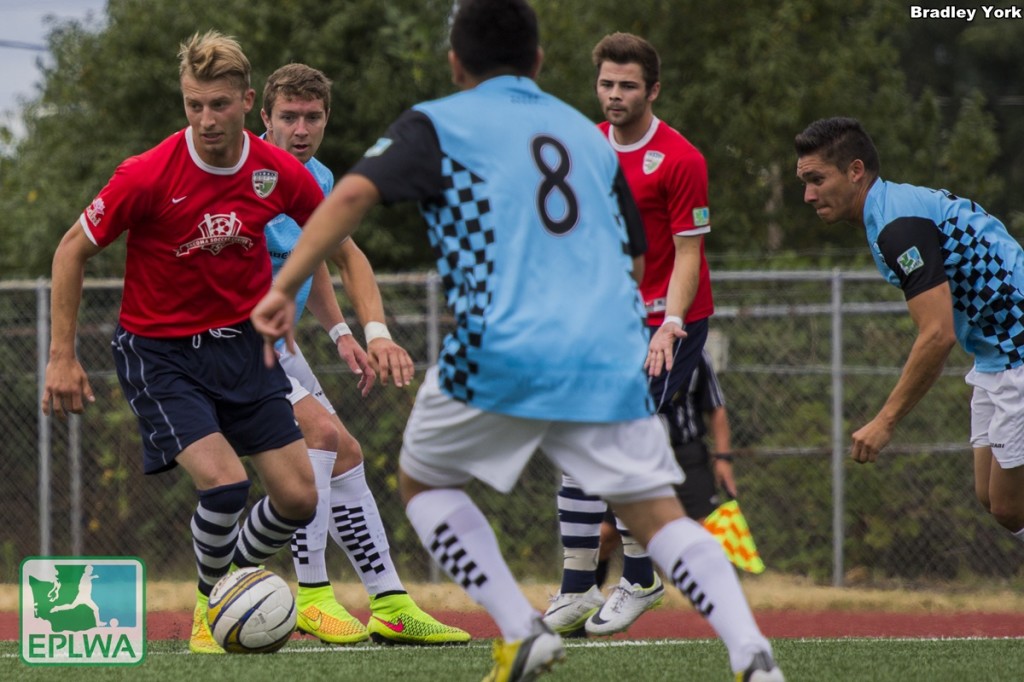 As the final whistle blew and the Vanguard torched up their final smoke bombs, the Vancouver Victory ended their inaugural season in the Evergreen Premier League. "We are just proud of the boys. It was a great season." said Garcia-Junco. "I think we accomplished a lot, getting know a bunch of new guys in and getting that kind of chemistry. It was kind of hard in the beginning but we started getting it after a few games. We just had fun. We have good fans and amazing support from everyone and we just came here to perform and end the season the right way."
And the boys in blue did. With heart, with skill, with grit, this team ended their regular season with pride. Sea of blue, you have one more chance to watch our boys in action this Wednesday night in a friendly against Gorge FC, 7pm at McKenzie Stadium. Friendlies are always festive so come on out and celebrate an amazing season and amazing support.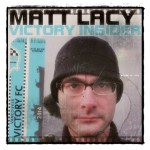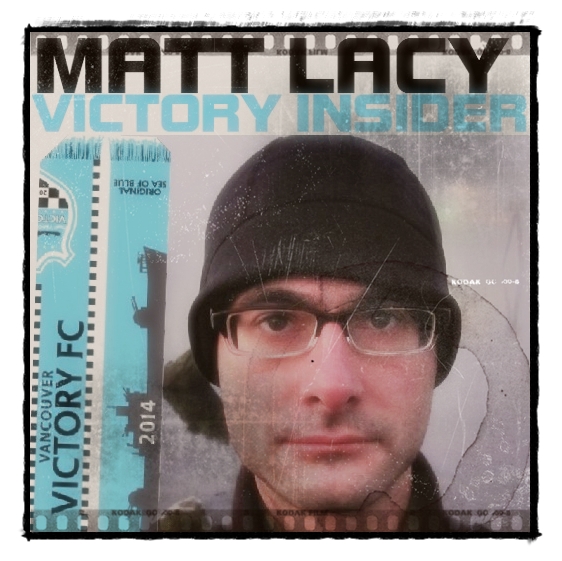 July 19, 2014 – Victory Lookout
by Matt Lacy V2FC Beat Writer

This is it… the last league game of the season! Our Vancouver Victory FC will take on a league powerhouse in South Sound FC at McKenzie Stadium, 2pm. This will be a clash for the ages as both the Shock and our boys in blue are among the top three that could take the league, the third being Spokane Shadow. The stakes cannot be any higher.
"I think it is very important in a sense that we are looking at it like just another game but also it's our last home game in front of our own fans and we want to make sure we finish our season 6-1
at home." said Head Coach Biniam Afenegus. "But at the end of the day, we win this game and we have the opportunity to possibly finish first if Spokane ties or loses one of its matches. There are a lot of implications to this game and the guys know that and hopefully we'll come out sharp and firing on all cylinders."
Here is what has me on the lookout.
Victory Payback -The Victory visited South Sound FC back in May and, arguably, suffered their worst loss of the year at 4-1. "I remember when we played them, they had a good amount of
possession, they are good at working it out of the back and playing it up to their target forwards." said Victory striker Jordan Jones. "We just have to focus on keeping the ball on the ground and playing to the feet. We'll just look to get our chances through the air and take care of set pieces like we usually do and take it from there." And that's what I'll be on the lookout for, these boys in blue aggressively taking it to the Shock.
Victory Sting – We are a winning club, on the top half of the table for a reason. So it is no surprise that we are still stinging a bit from the first home loss to Spokane Shadow last weekend. Victory net minder Jordan Farr stated, "We kind of have some unfinished business at home and I hope we come out strong, especially after a loss at home." Couple this with facing the team that handed us our biggest loss of the season and you have a group of lads that will have something to prove on the field.
Coach Biniam implied that things are trending well as the boys show their bite, "We've had a great training session today and we'll be sharp. They know it is the last game of the regular season and they'll be hungry to defend their home field and revenge the Spokane loss."
Victory Spirits – I was at practice on Thursday night and in a small group consisting of Langdon Roscoe, Johnnie Workman, and Cameron Goddard… the mood was appropriately upbeat and
this seemed to be a common theme across the field. Smiles, joking, and good conversation were the norm. There was an underlying air of business time mixed in and this is just where our crew needs to be just before a big game. I'll be looking for the carryover into this Sunday. What Jones said spoke to that same vibe, "Really for any team no matter what place you are at on the table, it's always nice to end with a big win. I am excited, I think all the boys are excited and
looking to get after it on Sunday."
Victory Top Guns – If there is a friendly contest among the top goal getters, here is where the numbers stand:
Jordan Jones 7
Mirza Ramic 6
Nick Palodichuk 4
Boca Atanisov 3
The Stands – We drew 425 people for our last home game, played on a Thursday night. That's only five less than the amount of supporters on opening day, the best attendance of the season.
I expect us the break all records this Sunday. South Sound plays in Tacoma, so I hope to see some traveling support as well. In addition, I've heard rumor of the Vanguard getting especially smoky for this final league game.
NERD ALERT – The Star Wars gang from Cloud City Garrison will be on hand in full gear representing and giving photo ops. Princess Leah (Former Mrs. Oregon Macy Bishop) will be singing the national anthem and Game Operations Manager Clay Bonds has other fun stuff in store for the crowd on fan appreciation day. Owner Barrett Goddard explained, "Clay has set up a great day for our fans! We have the folks from LA Fitness coming out to pass out some promo items and the the Sports Clips crew will be here with their mascot. Lots of giveaways and fun for all. Some of our corporate sponsors may have some surprises for the fans as well. The weather is going to be great so come out and enjoy all the fun!"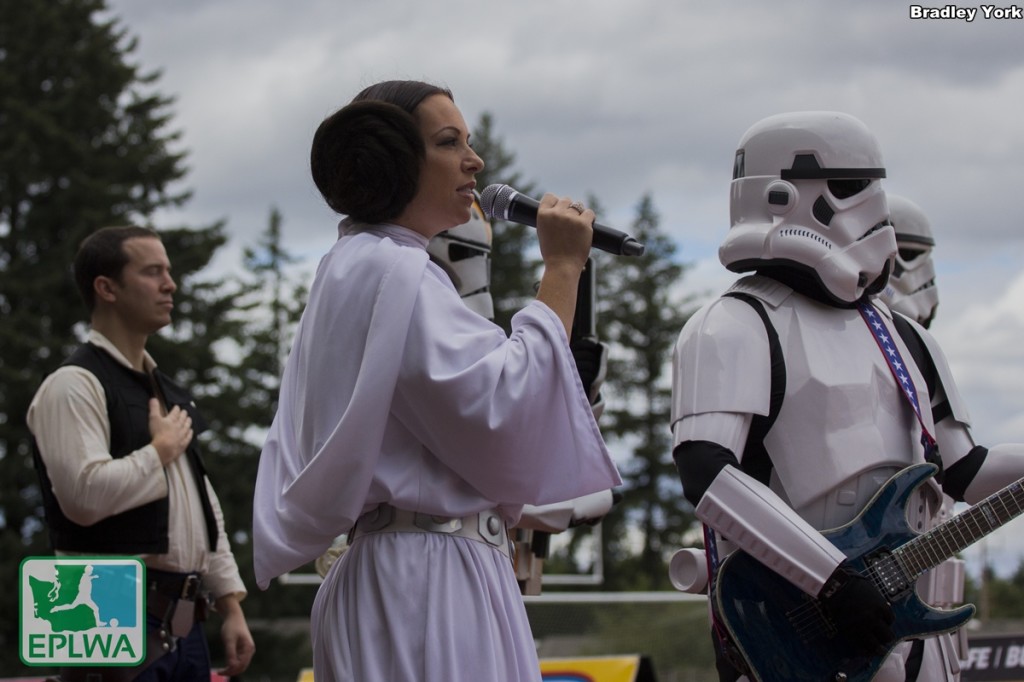 The Shock trying to shock -These fellas are going to come out flying, there is no doubt. They will have just played Bellingham two days ago and will be ready to lay it all out on the Victory field. Farr said, "It's going to be straight to where they are going to come out to want to win because they can't give up points at all no matter who it is against. So that in itself is going to be tough for us but we are at home, we're going to take anybody as far as that goes."
Veteran Shock Players – Coach Biniam stated, "They have been struggling as of late but I know they are one of the oldest team in the league, so they'll have maturity and experience to carry
them the last game. I expect them to be very organized, dangerous, they have a couple of former MLS players, and they are really good on set pieces.
When we went up there to play them, all four goals came from set pieces and a PK so I expect them to be a really organized team and disciplined and I think it is going to be a great game." One of those players is USL and MLS veteran Joey Gjersten. A native Tacoma kid, he had successful years with both USL era Vancouver Whitecaps and Montreal Impact. He then made the leap to MLS and played for the San Jose Earthquakes for a few years. He's returned home and is now tearing it up on the EPLWA fields. Combine him with the likes of Daniel Grey and Scotty Hanson and you have a formula for danger.
The Shock's backline – South Sound has one of the tightest defenses in the league and I will be on the lookout for how our upfront maestros might break through them. Sea of blue, this is it. This is just about the biggest game of the season and it will be huge. Farr stated, "I think it's just that their the number one team right now and regardless of what position we are in going into it, it's important that we win and beat the number one team for us and the
club, it's a good way to go out. I think the guys deserve it, the coaching staff deserve it, the fans
deserve it, everybody."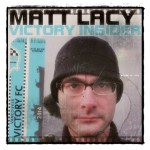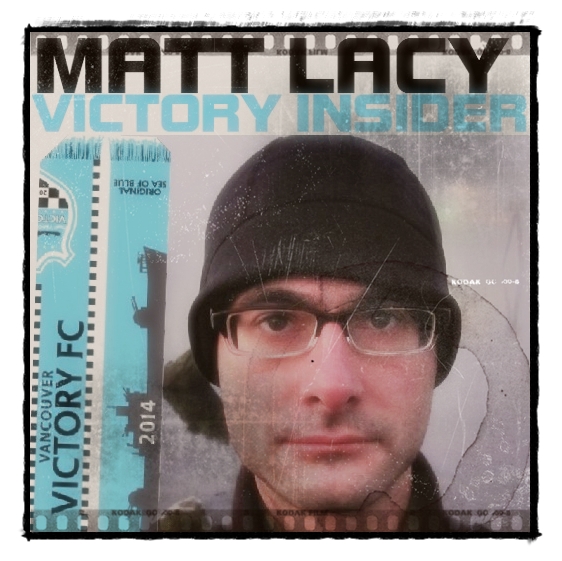 July 9, 2014 – Victory Lookout

By Matt Lacy – V2FC Beat Writer 

The league title fight can't get any hotter as The Vancouver Victory FC prepare to battle the Spokane Shadow this Thursday night at McKenzie Stadium, 7pm. These two titans in the league slugged it out to a 1-1 draw last weekend and will continue the duel. This is a must win for both sides if they want to end the season on top of the table. Here is what has me on the lookout.
Vancouver Build-Up From the Back – Our back line has done nothing but improve since the beginning of the season, hitting their best form yet last weekend against the very team they are
going to face on Thursday. Our net minders are stellar. Tyler Webster and Cody Guthrie are pairing nicely. Langdon Roscoe and David Boldt are tearing up the defensive back positions. I
will be on the lookout for how this continues to play out.
Flying Vancouver Players on the Sides – These guys are sending in deadly crosses and generally wreaking havoc on opponents. Davis Strawn is playing like a Baja race car on rocket fuel. Yoshi Hayashi is sending in crosses like lightning strikes. Jake Leggett is shutting down offensive runs like so many light switches. There are more, and I'll be on the lookout for them all.
Vancouver Spinal Strength -The V2FC fellas up top and down the middle are really striding well and making good connections with each other. Nick Palodichuk destroys and creates in all the
right ways as a defensive mid. Mirza Ramic plays up top like a boss. Jordan Jones connects with his fellows and capitalizes on every opportunity.
Victory Depth -This team has so much quality, I don't have time to list them all. I am just excited to see who might take the field and what might happen when they do because this bunch is
hungry.
Victory Guns – Our boys in blue have firepower and they are ready to unload. If there is a friendly competition, here are the current standings after Mirza Ramic blasted in his penalty kick last
weekend:
Jordan Jones 7
Mirza Ramic 6
Nick Palodichuk 4
Borca Atanasov 3
Spokane Shadow Defense – The Shadow have only allowed 10 goals all season. We have allowed 21. Yet, our goal differential is the same at +9. If our defense continues to trend positive, we might start to see theirs crumble as we have a goals for record sitting at 30, the Shadow are at 19. I'll be on the lookout to see if their back line can continue to weather the Victory pressure.
Spokane Organization -These guys comes from a very well organized academy situation where a lot of them seem to have played together in the similar system for quite some time. It should
be pretty fun to watch as this type of history is a bit unique in our young league. I'll be on the lookout for how this plays out on the field.
The Stands – The Boys in Blue have not played at home over two weeks and this is an important game. I'm betting we see some strong attendance as this season wraps up and supporters
looking to do just that as much as they can. Plus, I've heard the Vanguard is looking to show their usual loud, smoky pride from "The Shipyard" in the North stands.
It is going to be an exciting match, sea of blue. I'll see you at McKenzie Stadium at 7pm this Thursday to watch our Vancouver Victory FC take on the Spokane Shadow.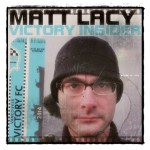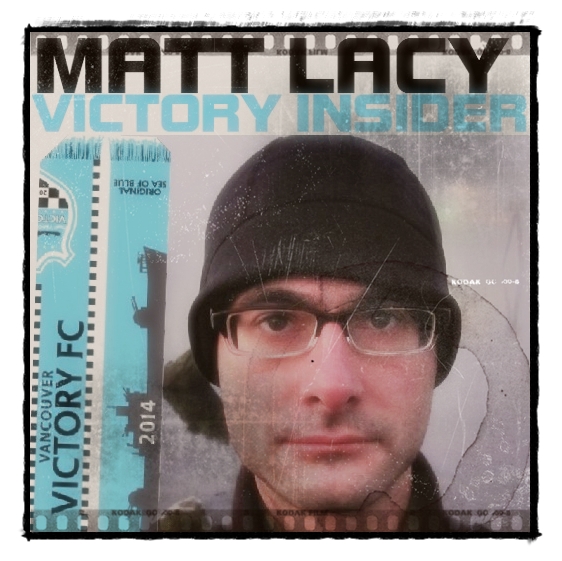 July 6, 2014 – Victory Lookout
by Matt Lacy V2FC Beat Writer 

The league title prospects for the Vancouver Victory rest squarely on this Sunday's (7/6) game against the Spokane Shadow at 2pm. There are no other scenarios. The warriors in blue know this and will raise their barbaric yawps over the roof tops of the world there on the field at Spokane Community College. They will leave Saturday morning, practicing midway, and spending the night in Spokane. They will be well traveled and well rested for, arguably, the biggest match in the Evergreen Premier League weekend. Here is what has me on the lookout.
Vancouver Victory Heart -This is an amazing bunch of guys. They like each other and they like this club. I see this on away game road trips when the fellas are careening down I-5 and celebrating a hard fought win. I see this when Enrique Esparza pulls on his jersey for the first game after being gone due to injury and he plays a great game. I see this when Sean "Magic" Ervin talks about nothing but his fellow players. I see this when Jake Leggett quietly works his tail off every second he's on the field. I see this when Jamoy "Bling" Stevens smiles about doing well and the good experience playing for the V2FC.
I see this when Assistant Coach Sean Jansen is always willing to talk shop because he's a professional and good at his job, but also because this is fun. I see this when club owner Barrett Goddard and his wife Sylvia make turkey sandwiches in the wee hours of away game mornings to make sure the boys in blue will be both well fed and get home at a decent time after the game.
Sheesh, I could go on and on. This team, this club, this community of people representing the community of Vancouver, has heart. I'll be looking for more evidence of just that on the field this Sunday.
Victory Goal Scoring Again, there is a friendly competition among the top sharpshooters wearing blue, here are the current standings after Iron Man, Nick Palodichuk sends in a solid goal and Jordan Jones earns a hat trick against West Sound FC last weekend:
Jordan Jones 7
Mirza Ramic 5
Nick Palodichuk 4
Borca Atanasov 3
Spokane Ambush on the Table -This team is good, there is no doubt about it. They have a strong development academy underneath them and the best attendance in the league. They are sitting at tird on the table, but have two games in hand (perhaps the sneakiest part about them). Win those, and they could be tied for the top of the table with South Sound; the team we are sitting just behind in second place. They have lost only two games. They have a solid defense. I'll be on the lookout for how The Shadow look to overtake the league because this game will say it all.
This is going to be a battle, sea of blue. The Vancouver Victory FC will travel to face the Spokane Shadow this Sunday July 6 at 2 PM at Spokane Falls Community College.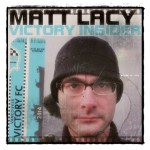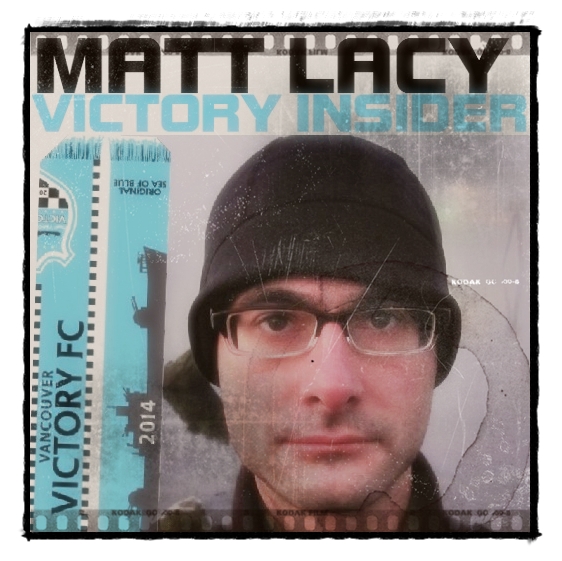 June 29, 2014 – Vancouver Beats WestSound FC 4-2
by Matt Lacy V2FC Beat Writer 

Silverdale, WA. On a sunny evening at Silverdale Stadium, Vancouver Victory FC beat WestSound FC, 4-2 on a zinger goal from Nick Palodichuk and a hat trick from Jordan Jones. "I feel like everyone gave a good shift, it was a good team win." said Jones. "I am happy to get the goals and we got the result and that is all that matters." And those goals were not had easily, WestSound was there to battle.
The first seven minutes set a physical, cagy tone that was cracked open a bit on a WestSound corner kick in the 8th minute. Wearing all white, a WestSounder sent in a ball that rattled around the box and ultimately fell to Leo Potts. He rocketed a shot to the left, forcing a clairvoyant, lefthanded save from Victory keeper Sean "Magic" Ervin. Ervin stated modestly, "You know, you don't really think about it when it happens, you just "bang, bang" and you hope you get enough on it to keep it out and I did it and that was good."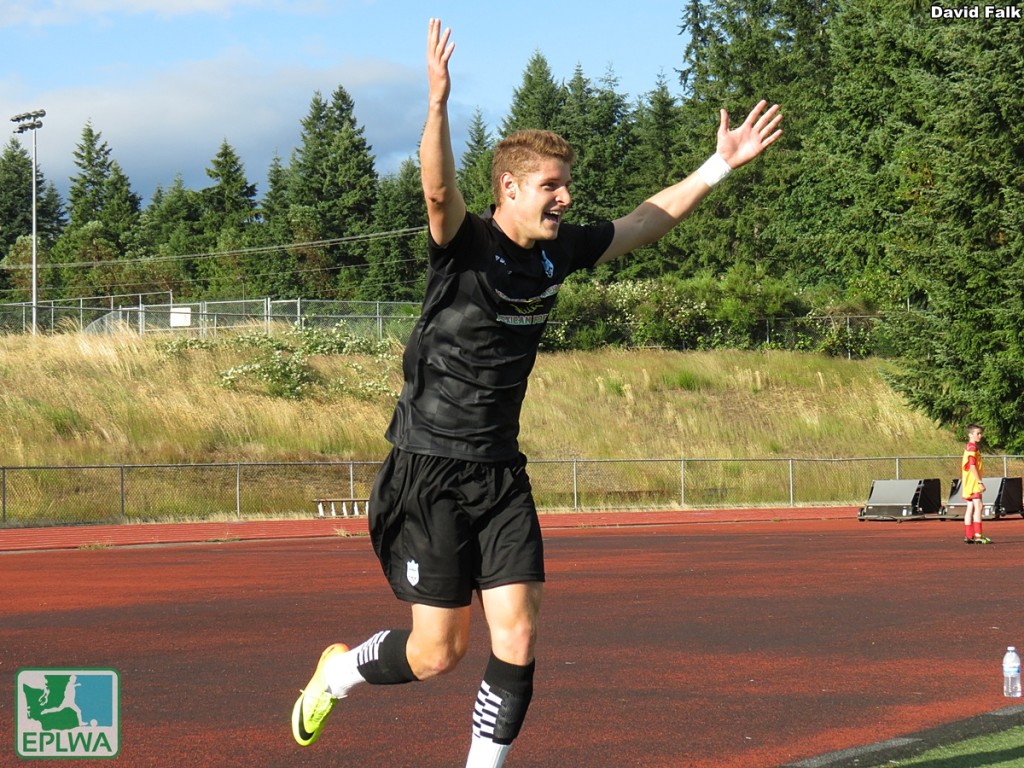 The Westsound keeper, Jordan Hadden was tested in the next minute when the Victory's Jordan Jones, wearing all black, dashed into the box on a counterattack
and was stymied by Hadden's well timed charge out to gather the ball at Jones's feet. But, Jones would have his revenge.
In the 25 minute, the Victory earned a free kick from 35 yards out to the right. "Nick [Palodichuk] played a great ball in like he usually does on a set piece."
said Jones. "I was lucky to get ahead of my defender and got my head to it and got a nice bounce into the upper left." 1-0 Victory.
The WestSounders came slashing back In the 28th minute, when Graham Davidson forced an amazing ball though the Victory backline to Kyle Schoales who beat his way to a one on one situation with the Victory keeper. Schoales drove it in handily to draw the teams even at 1-1.
The 31st minute saw a direct answer back from the crew in blue when Bryanth "Papa" Garcia, who had amazing crosses all evening, held up the ball and got it to Palodichuk at the top of the box. Palodichuk then beat the swarming sea of white defenders to put the Victory up, 2-1.
Jones's second goal came in the 37th minute off a throw in. Jordan said about the goal, "It was a nice one. Nick [Palodichuk] usually plays our long throw ins.
Luckily, Enrique [Esparza] got a touch to it and flicked it onto my right foot and I just volleyed it into the back of the net." That juggling of Esparza and levelheaded
finish of Jones pulled the Victory up to 3-1.
The 38th minute brought the hat trick coming off a feed from Brian "Gonzo" Gonzalez who got the ball to Jones. Jones then streaked down the center left of the field to beat and draw out Hadden, the WestSound net minder. Jones pounded the ball towards the net as a streaking WestSounder attempted to kicked it out, but not before it crossed the goal line. 4-1 Victory and a hat trick for Jordan Jones. He said with a smile, "That was a good ball in by Brian and it just came to my left foot and I just played it. And luckily it went over the line and the ref had a good
call so it's good to get that third goal in."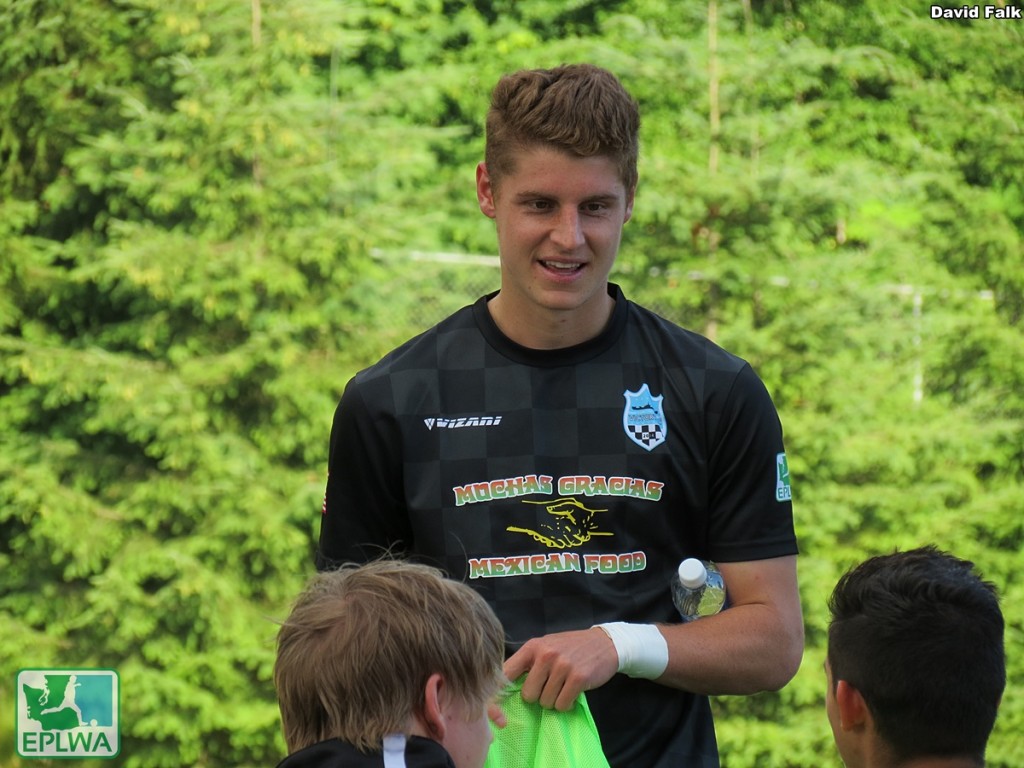 In the 60th minute, WestSound beat out a corner kick where Davidson sent in a pinpoint cross to the head of Ishmael Deluna. He slugged out the given space to head it directly past the Victory net minder, pulling one back for WestSound, 42.
Of the Victory back line, Victory net minder Ervin said, "They have been good. A couple of lapses, but on the road you are going to have those, you know. We stayed strong, we didn't get after each other, we stayed united. It was a solid performance by them."
The 68rd minute saw the hardworking Victory forward Jamoy "Bling" Stevens launch a rocket, forcing a great save from the WestSound keeper, Hadden.
Nick Rasmussen muscled a shot just over the bar in the 73rd minute from 15 yards out, the last real goal scoring opportunity of the game.
Of the overall game, Victory Head Coach Biniam Afenegus stated, "I liked it in phases, the first phase, I gave them (the Victory) complements; in the final third we were clinical, every chance we got we scored and it took a lot of pressure off. Everybody kind of relaxed. At times, defensively, we kind of lost focus. But over all, on the road, we got our three points and played well. I am happy for the boys. Now the two game winning streak is important. Hopefully we can make it a third next week."
That would be next Sunday, July 6, when the Vancouver Victory hit the road again to face the Spokane Shadow at Spokane Falls Community College, 7pm.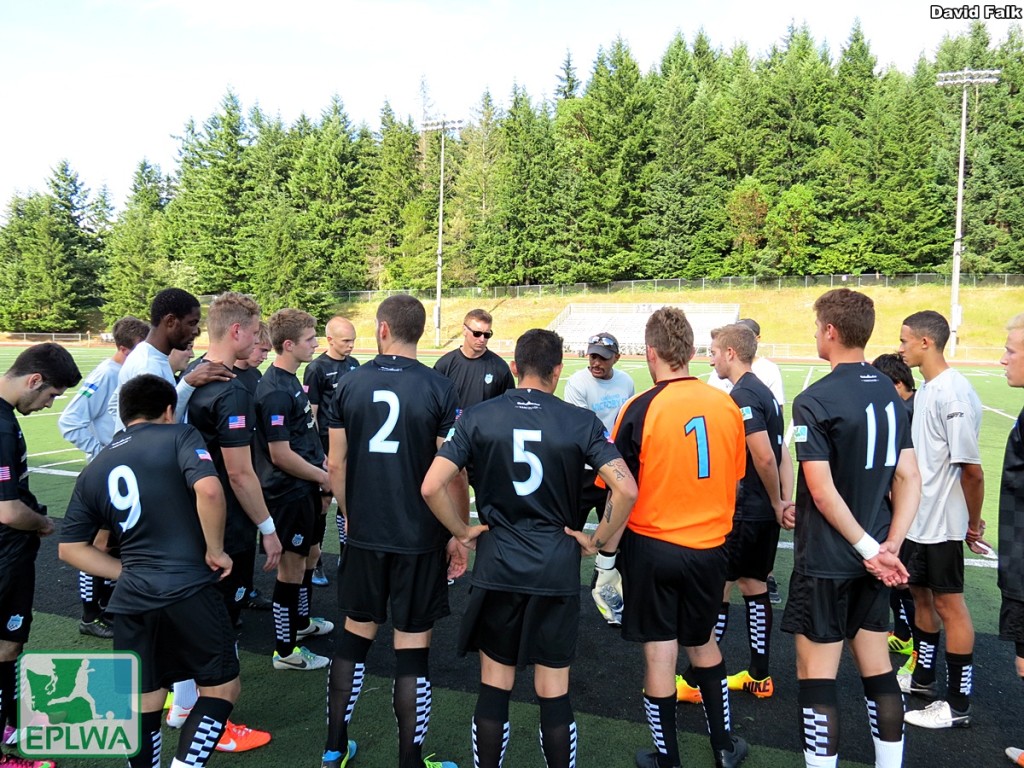 Goal Summary
25' V2FC Jordan Jones (Nick Palodichuk)
28' WSFC Kyle Shoales (Graham Davidson)
31' V2FC Nick Palodichuk (Bryanth "Pappa" Garcia)
38' V2FC Jordan Jones (Enrique Esparza)
44' V2FC Jordan Jones
60' WSFC Ishmael Deluna (Graham Davidson)
Discipline Summary
44' Cameron Watson yellow
50' Kyle Schoales yellow
77' Ryland Berriman yellow
87' Davis Strawn yellow

Vancouver, WA (June 27, 2014) — On yet another rainy night, the Vancouver Victory FC beat Everett United 3-0 in a friendly at Mckenzie Stadium in front of 271 fans. Jordan Jones lasered a great header and Jamoy "Bling" Stevens earned his first two goals for the club. It was a much more competitive game than the scoreline suggests; even with a small traveling squad, Everett came to play.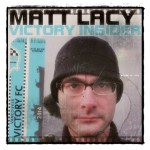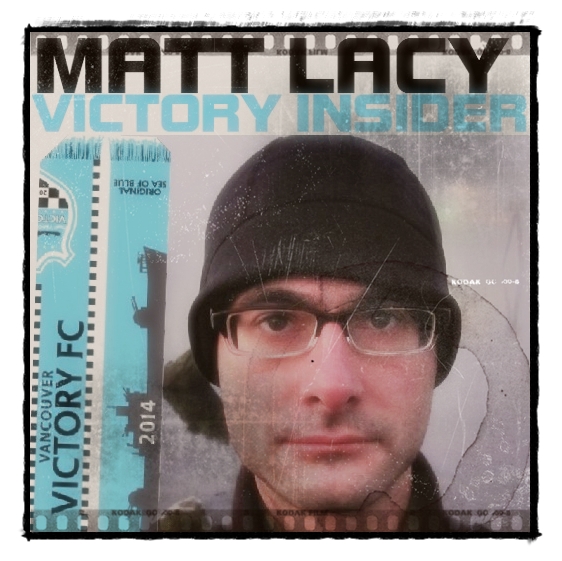 by Matt Lacy – V2FC Beat Writer
The first half started with Everett United playing a high defensive line, primarily keeping the battle in the middle of the pitch and maintaining a pretty even run of play. Vancouver's Nick Palodichuk got a nice attempt from 30 yards out in the 14th minute that forced Everett keeper Felix Cruz to make a tipping save over the crossbar. Jordan Jones also got a good look from the far post off a Bryanth Garcia cross, but was thwarted by the Everett defense.
Match Photos: View a gallery from Bradley York
In the 24th minute, Vancouver's Marshall Hartley whipped in an amazing corner kick from the left, pinpointing Jordan Jones rising above the imposing Everett line. Jones headed it home into the center of the net, beating Cruz and opening the scoring at 1-0 Victory.
Everett came roaring back in the 32nd minute with a sniper shot from 25 yards out that caught Victory keeper Mackay Owsley off his line and was only saved by the friendly cross bar. (On a side note, Owsley's boot literally broke in half during the 70th minute of play, yet he soldiered on to earn the clean sheet.)
In the 38th minute, Victory's Mirza Ramic sent in a world class free kick from 20 yards out, forcing a quick minded save from Cruz, the busy Everett keeper. Ramic later hit the cross bar in the 43rd minute, continuing to press the issue.
The second half was all Victory where Jones had a nice chip attempt on a fast counter attack and Enrique Esparza, just back from injury, began to show some real skill on the left side.
Cameron Goddard got into the mix and ripped in a strong, low ball from 25 yards out in the 74th minute, forcing an outstretched save from Everett's keeper. In the 78th minute, a bit a magic happened, Vancouver's Stevens shored up a ball right at the top of the box, completed a magician-like spin move while fending off three Everett defenders, and rocketed a shot off his right boot to beat the baffled keeper.
"It's one of the best things I do. I can shield the ball very well. I looked over my shoulder and he was on the left side so I spin back right." said Stevens. "I turned him again and it was wide open. So the goal was right so I just took it." This is the Antiguan's first goal for the club and his first in the United States. 2-0 Victory.
The 83rd minute brought more wizardry from Esparza, who juggled the ball in front of three Everett defenders to find Stevens 10 yards in front the box. "It was a good ball from Enrique." says Stevens. "His first touch was very good." Esparza zipped the ball over to Stevens who plinked it into the upper right of the net. "I just hit it straight and it was in so two beautiful goals in all, really." smiled Stevens. And it brought the crew in blue up to a 3-0 lead.
The rest of the game played out with a nice 30 yard attempt by Everett that was easily handled by our guys and a great, harried save by their keeper to keep the score at 3-0 by the time the final whistle was blown. "It was a good game, actually." stated Stevens. "We played very good in the second half. I was just happy to put the team on my back and just get the two goals and those put us up 3 to nil. It's an awesome feeling, the team played very well."
It was a fun friendly under stormy skies. The Vancouver Victory FC would like to thank the Everett United head coaches Jesus Muchaca and Salvador Rivera and their players for coming out to play this midweek match. It was a good time.
The Vancouver Victory FC get back to league play and their title hunt this Saturday at Silverdale Stadium, 6pm, where they'll take on Westsound FC. The Victory blew them out in our home opener with a 4-0 drubbing and they are probably going to want some payback.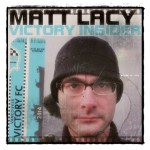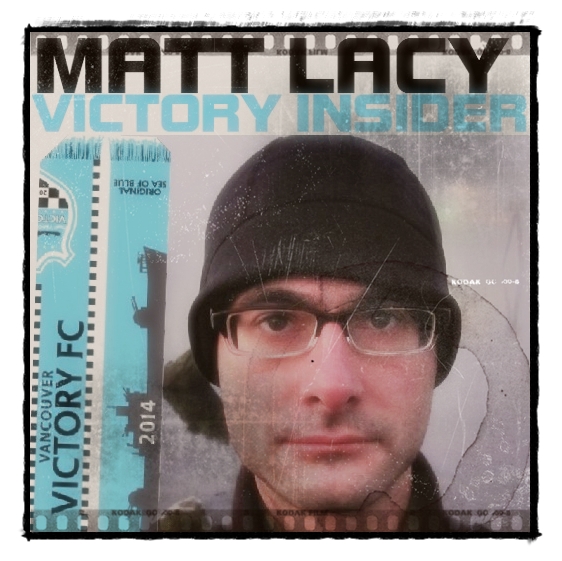 June 14, 2014 – Victory Lookout

V2FC @ Seattle Stars FC 2pm McKenzie Stadium

Our Vancouver Victory FC will welcome the Seattle Stars FC this Father's Day Sunday at McKenzie Stadium, 2 pm. The two teams have met once before up in Starfire Stadium where Victory's Jordan Jones took the game to 1-0 off an assist from Bobby Hutchin late in the match, spoiling the Star's home opener. In their final matchup of the season, this is what has me on the lookout:
The Victory Shape Two weeks ago
We saw the return of Borca Atanasov against Bellingham United FC after a three and a half game hiatus due to injury and he made an immediate impact. His return gives Victory Head Coach Biniam Afenegus three middle of the field power houses found in Atanasov, Mirza Ramic (who scored the Victory's only goal last weekend, a monster header) and Nick Palodichuk (a defensive and offensive menace).
I'll be watching for how Coach Biniam might tinker with the formation and lineup, especially since we may be missing a few players, to get it just right after last weekend's defeat. Club owner Barrett Goddard said, "We came off a very tough loss on the road. The loss hurt us in the standings. We are going to be a little short handed this weekend so it is a very important game to galvanize our players to get back on the winning track.
Farr out Net Minding and a Solidifying Backline
Jordan Farr made a wonderful first outing against Bellingham United FC, showing speed and good field sense. This, added to the back four getting some kinks worked out, should begin to equal a solid foundation for the Victory.
Victory Players Free to Fly
With so much attention focused on our spine down the middle of the field, it will be really interesting to see how it might free up others to do what they do best. Bobby Hutchin scored the final smashing goal from a clairvoyant run against Bellingham two weeks ago, partially because the defense was busy dealing with Atanasov and Ramic. Despite pressure, Ramic found a streaking Hutchin who punched it in, neat as you like.
Tevaughn "Peter Redz" Harriette,
Antiguan U20 National team player, joined in the goal scoring bonanza against Bellingham as well, putting up his first goal for the Victory. He said, "It is good so far, I finally got my first goal. I hope there are many more to come. It was hard, getting the first one, the first one is always the hardest. I hope the rest will flow smoothly."
Coach Biniam stated, "We have a lot of midfielders that can play in there, we have two or three rotations so that gives us a lot of depth and competition, which has helped us get better as well."
Victory Goal Scoring
So, there may or may not be a friendly goal scoring competition among the sharpshooters in our squad, perpetuated by the league's own posted competition. If there is such a thing going within the crew in blue, here are the top team standings:
Mirza Ramic 5
Nick Palodichuk 3
Jordan Jones 3
Borca Atanasov 3
Stylin' Boys in Blue
While not a tangible difference maker, this was still a cool moment. Last Thursday night the squad got their official training gear… and it looks sharp. And I'll just declare it right now, the little touches the club adds to their gear puts it heads and tails above the rest in the league. Things like: the current year on the badge, the Cascadia Flag on the arm, even the logo of Main Event Sports Bar and Grill looks great. I'll be looking for just a little extra spring in the guy's step come Sunday.
Seattle Stars Fight
The Stars have been at the flat bottom of the table since the beginning, losing or drawing, almost tragically, by inches and degrees. Their only win came from Wenatchee, 2-1, the same team that just beat V2FC last weekend. The Stars are going to come in to McKenzie Stadium thinking that three points are possible. The boys in blue will need to be on their toes because I am sure those Tukwila boys are tired at looking up at the rest of table.
Two Shooting Stars
Jonathan Maqueda and Buba Jammeh performed well against WestSound FC last weekend, despite the loss. Jammah gives back lines fits with his constant pressure and Maqueda can send in wicked crosses. I'll be watching for how our back line deals with this dynamic duo.
In The Stands
It's Father's Day weekend and the club is running a great deal where $25 will get a father and his immediate family into the game and Dad gets a free Victory t-shirt (a $20 value alone). Concerning attendance records, we are third in the league; a respectable place considering we are following Bellingham and Spokane, two well established clubs. Honestly, I'll be watching how the numbers continue to shoot up and for Father's Day fun. This is going to be a good day.
Plus, again, I am hearing rumors about the Vanguard, our ardent supporter's group, crafting another something special for this match. That's always fun as well and much appreciated by
the crew in blue.
Great things are set to happen up in McKenzie Stadium where our Vancouver Victory FC will take on Seattle Stars FC Sunday at 2pm. Goddard said with a smile, "We have been very solid at home and I don't expect that to change. I expect Seattle to come and bring a very tough team but I fully expect us to play like we are capable of playing at home." It's Father's Day weekend (don't forget about the special) and it's going to be a great day to see the Victory back in our home field.
V2FC 5-3-0
Last three games: L-W-L
SSFC 1-4-1
Last three games: D-W-L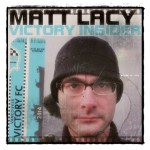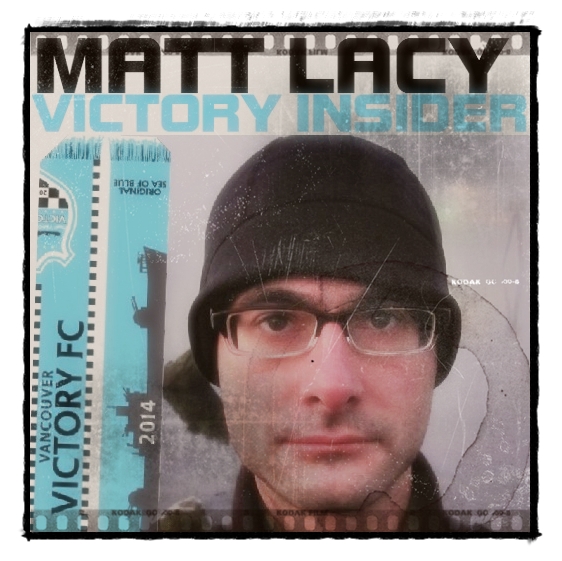 May 31, 2014 – Vancouver Topples Bellingham United FC 5-1

by Matt Lacy V2FC Beat Writer

Vancouver, WA. On a bluebird day, our Vancouver Victory FC toppled league leaders Bellingham United FC 5 – 1 to claim the top spot on the table. The crowd of 325 home supporters and a few great away fans were treated to an honorable contest where both sides brought good things to the table, but the crew in blue ended up walking away from McKenzie Stadium with smiles and all three points.
Wearing their blue tops, black shorts and black socks, the V2FC played a 4-3-3 diamond, moving Nick Palodichuk to defensive mid, Mirza Ramic at attacking mid and placing Borca Atanasov at
the striker position. This yellow brick road down the middle of the pitch was deadly. Once the green smoke cleared from the Vanguard's opening TIFO, It did not take Atanasov more than three minutes to reintroduce himself to the pitch after his three and a half game injury hiatus. In the 3rd minute, Enrique Esparza pinpointed a nice ball up the left line to Atanasov who streaked to 20 yards out and arrowed the ball to the far post, beating the Bellingham keeper,
Brian Swanson. 1 – 0 Victory.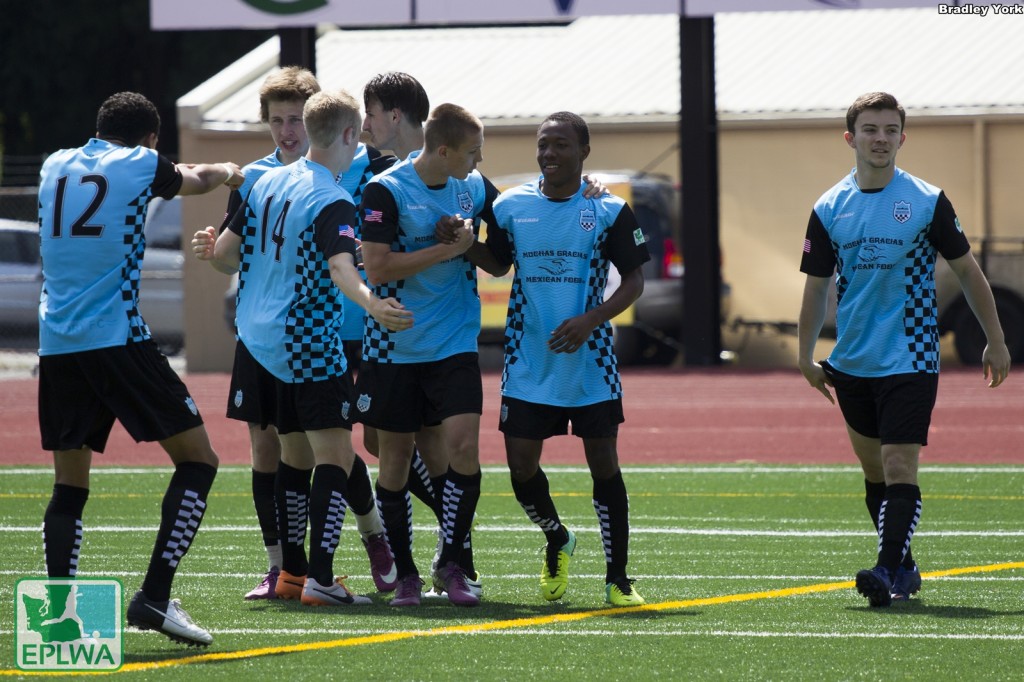 Atanasov stated after the game, "That goal was a screamer, probably one of the best goals I have ever scored. There was no angle right there but I decided to go with it and it went perfect to
the upper v; and especially since it was the first five minutes, it kinda set the tone." In the 16th minute, after some strong, even play, the Victory racked another one for the home side. Victory's David Boldt sent a soaring throw in down the left line to Atanasov. Atanasov then took it all the way down to the touchline where he placed the ball out to Mirza Ramic, positioned nicely in front of the goal. Ramic one touched the volley into the bottom right of the Bellingham
net, neat as you like. 2 – 0 Victory.
More great exchanges happened back and forth leading to a threatening attempted on goal for Bellingham United FC, wearing all white and fielding what looked to be a 4-3-3 formation. In the
30th minute, Bellingham's Chris Epson sent in a great ball to Tye Hastings who smashed the ball towards the net, forcing Vancouver's keeper, Jordan Farr to make a bouncing save. The half played out with good solid passes and build ups from both sides, but still ended 2 – 0 Victory.
Both teams came back out well, but the Victory won out quickly in the 47 minute as Atanasov sent in a well leveled cross in the middle of fast play from the right. Vancouver's Marshall Hartley
smartly allowed the ball to cross him, giving Antiguan international Tevaughn Harriette space to run in and left boot it at point blank range putting up his first goal of the season. 3 – 0 Victory.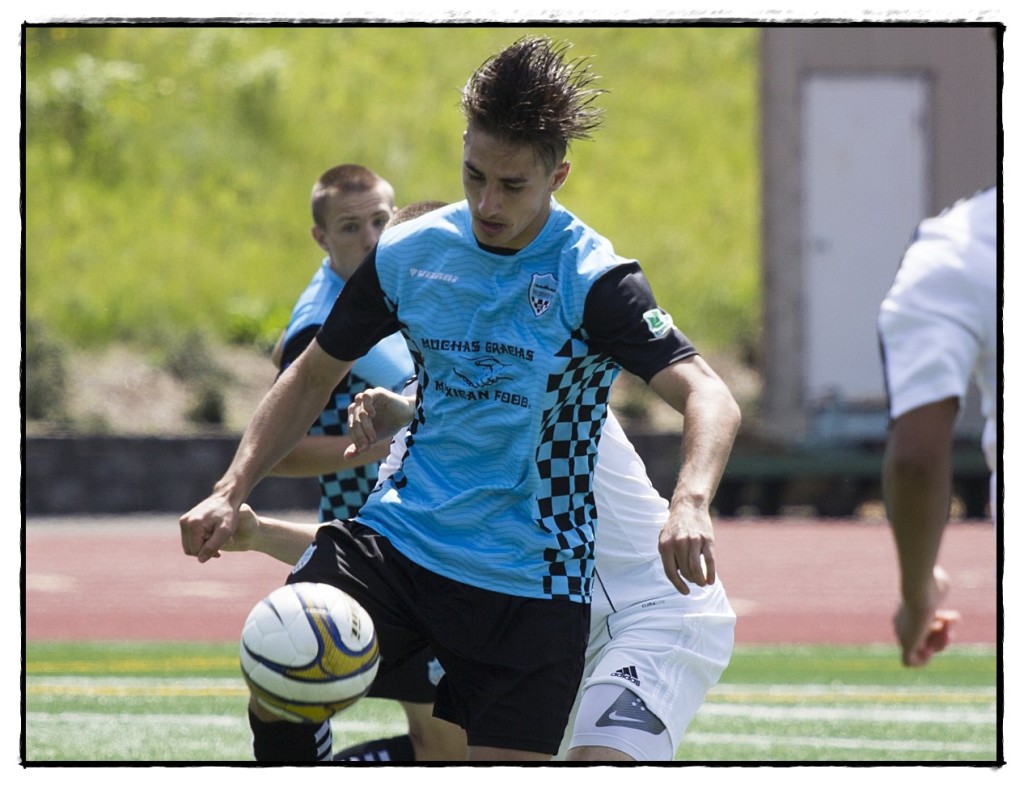 In the next minute, the Bellinghammers roared back immediately as Ryo Matsubara magicianed a cross from the right to fellow Hammer Tony Clarke at the top left of the box. Clarke handily put the ball in the upper right, beating the diving Victory keeper, Jordan Farr. BUFC pulled the score to 3 – 1.
The Victory kept working and in the 72 minute, out from the right corner, Atanasov worked the ball to the top of the box where he created space to rocket a goal into the left corner. 4 – 1 Victory. Bellingham Head Coach Lance Calloway had this to say to Atanasov after the game, "I want to say you were a difference maker today for your team. You played very well, very well done."
In the 75 minute, there was a tense run of play where the Hammers earned an indirect free kick from ten yards out. Bellingham's Carlos Badillo was causing all sorts of havoc in the fray, but the collective Victory defesne blocked two very hard shots inside the 6 yard box and finally cleared the threat. Bellingham never once gave up the fight, as evidenced in the 86th minute when Hastings drove a great ball towards the Victory net. Keeper Farr had to Superman to his lower right to keep the score line where it was. Farr was deferential when asked about the heroic move, "That one save, it was a good save but it was the defenders that pretty much covered everything for me, there was a bunch of shots that deflected off them. As far as organization went they were just solid, everyone was doing their job and it made my job really easy."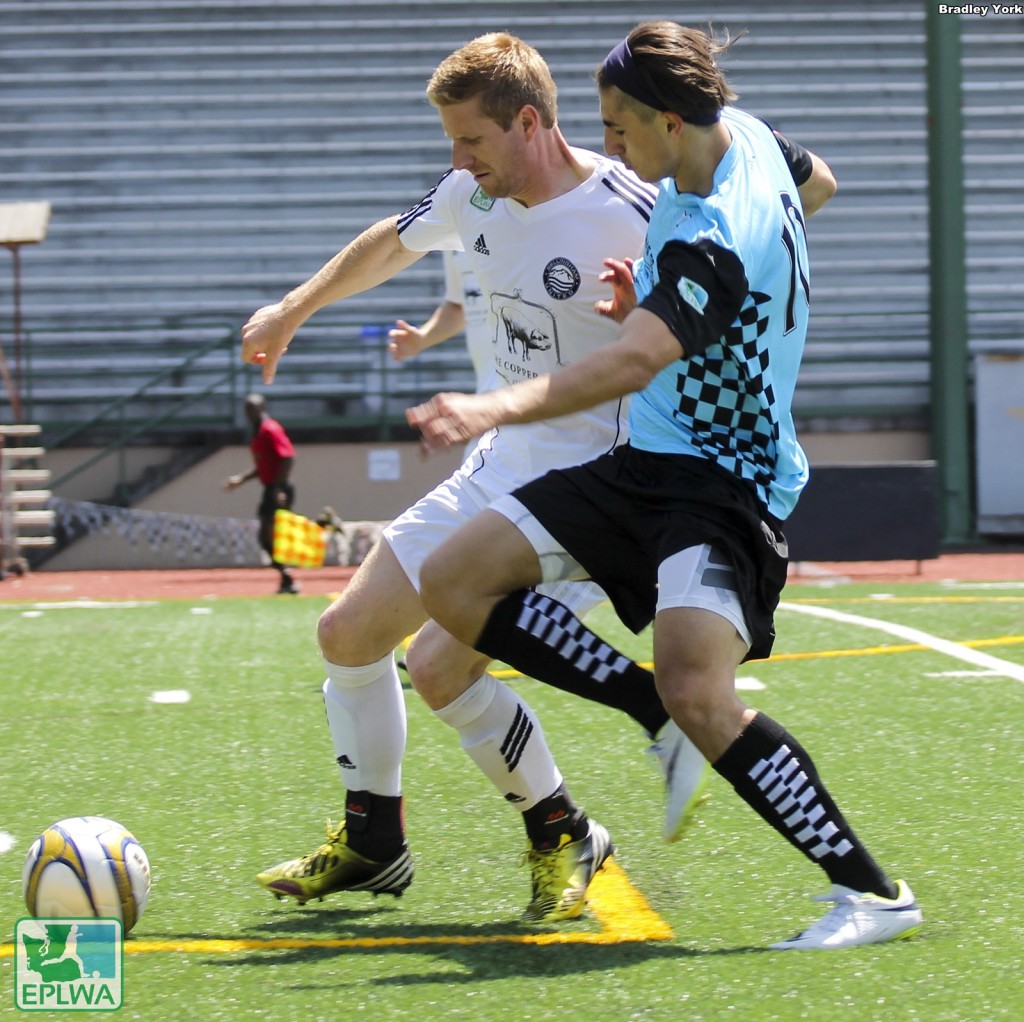 Victory back lineman Davis Strawn points towards the coaches for this performance, "The coaches put the pressure on us this last week to make simple corrections like staying tight and
communicating and maintaining control as a back four and not just one person." The game was capped off in stoppage time by a wonderful run of play where Ramic received the ball with his back to the goal and unselfishly shepherded it off to a dashing Bobby Hutchin coming in from the left. He bashed the ball into the upper left corner with the outside of his right boot. 5 – 1 Victory.
The Victory left McKenzie Stadium with a win and riding high on the top of the table at 15 points. Next week the crew in blue will hit the road to face Wenatchee United on June 8th at 4pm.
Goal Summary
V2FC 3' Borca Atanasov (Enrique Esparsa)
V2FC 17' Mirza Ramic (assist: Atanasov)
V2FC 47' Tavaughn Harriette (assist: Atanasov)
BUFC 48' Tony Clarke (assist: Ryo Matsubara)
V2FC 72' Atanasov
V2FC 90+ Bobby Hutchin (assist Ramic)
Discipline Summary
BUFC Tyler Bjork Yellow
BUFC Carlos Badillo Yellow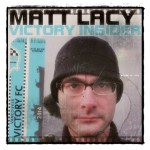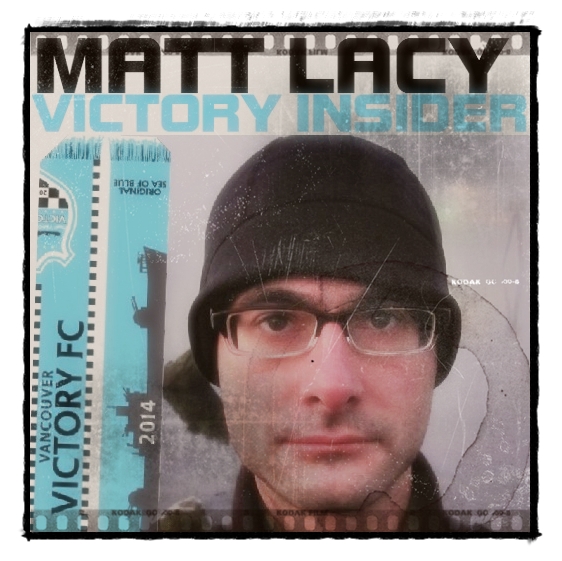 May 29, 2014 – Victory Lookout

by Matt Lacy (V2FC Beat Writer)

V2FC vs Bellingham United FC 2pm McKenzie Stadium

VANCOUVER, WA. Our Vancouver Victory FC are going to clash in a big way with Bellingham United FC for the last time this season on Saturday at McKenzie Stadium, 2p.m. "Bellingham gave us our first loss so that's not easily forgotten." said Victory Assistant Coach Sean Janson. And there is no doubt the crew in blue will be ready to storm the pitch. This is what has me on the lookout:
V2FC Resiliency.
We are 3rd on the league table, a winning squad accustomed to winning ways and we are clearly jostling for that top spot. These facts alone are enough to stoke the engine room fires in our Vancouver Victory after last weekend's unfortunate events. The fellas are ready. "Oh, they want a big win." said Coach Janson. "They love playing in front of the home crowd, they love playing in front of the Vanguard and we owe these guys something. You know, playing them in our first game of the year, we like to think we've come a long ways since then and this would be a chance to prove it." This attitude will be interesting to watch play out on the field.
Victory Backline Cohesion.
Yes, we are an exciting team to watch, there is no other club that scores more than us; 14 points in league play (tied with Bellingham and Yakima). But, we've also allowed 11 goals in, looking more akin to the bottom of the table numbers. The consolation is that our goal differential is still third best in the league, but I'm still going to be looking for anything different that Head Coach Biniam Afenegus might try on the defensive end.
Bellingham United as the Golden Boys?
This team seems to be the darlings of the league. It makes sense: they are more closely associated with the head offices than other clubs, they have a good history, a good writer on staff, good attendance, a good beer garden in the stadium, and Hooligan Ron (who seems like a good guy). So they're good. From my seat, I'll be watching for attitude, honestly. All my preconceptions have come from the interwebs and hearsay so this is my chance to put my preconceived ideas aside and let the team speak for themselves.
Rivalry.
BUFC has a poll up on their rather slick website asking which team will be their biggest rival and among the four choices given, our V2FC has received 64% of the vote. The other teams hover around 12%. There may be something brewing here. "Bellingham is an
experienced club and we are new, still sorting out who we are and who the other teams in the league are." said Coach Jansen. "But, I think it's safe to say that Bellingham, and now South Sound who, along with us, are the top three in the league; are the teams we are most concerned about." Huh. If a true rivalry is going to be established this season, this will be the game where it happens.
The Stands.
Last weekend we were away, giving citizens of our fair city a chance to build anticipation for this Saturday's contest. I bet we are going to be seeing a good crowd. Plus, this is a 2 for 1gig that the club has run. You can go to any Muchas Gracias anytime before the game, purchase anything, and get a 2 for 1 coupon to the match. A good deal by any measure. I also wouldn't be surprised if the Vanguard has something special lined out for this game. There has been some banter between our two supporter's groups and the Bellinghammers have been known to travel.
Our boys in blue have nothing but victory on their mind. As Coach Janson said about the aims for this game, "Three points, a shutout, and playing collectively, not as individuals." And I think that is exactly what we are going to see. This will be an exciting clash of two titans on the league table, sea of blue. I'll see you there as our V2FC take on Bellingham United FC at McKenzie Stadium, kickoff is at 2p.m.
BUFC 13pts (4-1-1)
V2FC 12pts (4-2-0)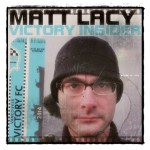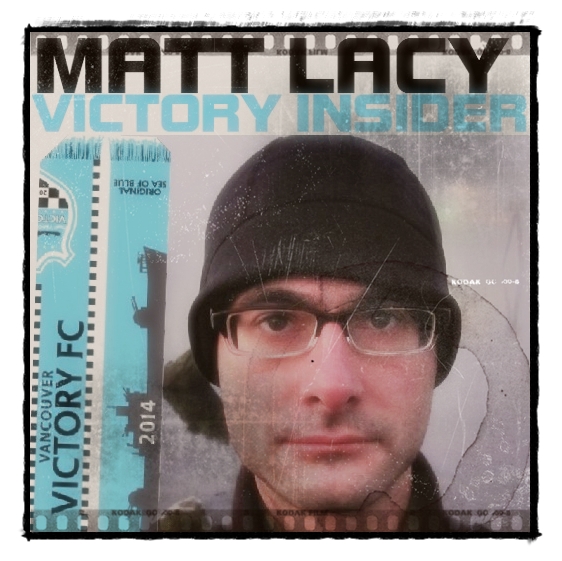 May 18, 2014 – Wild one as Victory take 5-4 thriller over Yakima
By Matt Lacy, V2FC Beat Writer
VANCOUVER, WA—In what can only be labeled a crazy, crazy game, the Vancouver Victory F.C. emerged victorious over Yakima United F.C, 5-4. The 303 supporters that ventured to McKenzie Stadium on this beautifully stormy Sunday afternoon were treated to a close contest fought by two teams that are shaping up to be powerhouses in our eight team league.
The game was delayed five minutes as a torrential thunder cloud with pouring rain and hail pounded McKenzie stadium forcing the officiating crew and the teams back into the locker rooms just as they were lining up for the pre-game march to battle. The storm subsided and the match began, where a soccer storm played out for 95 minutes on the stadium turf field.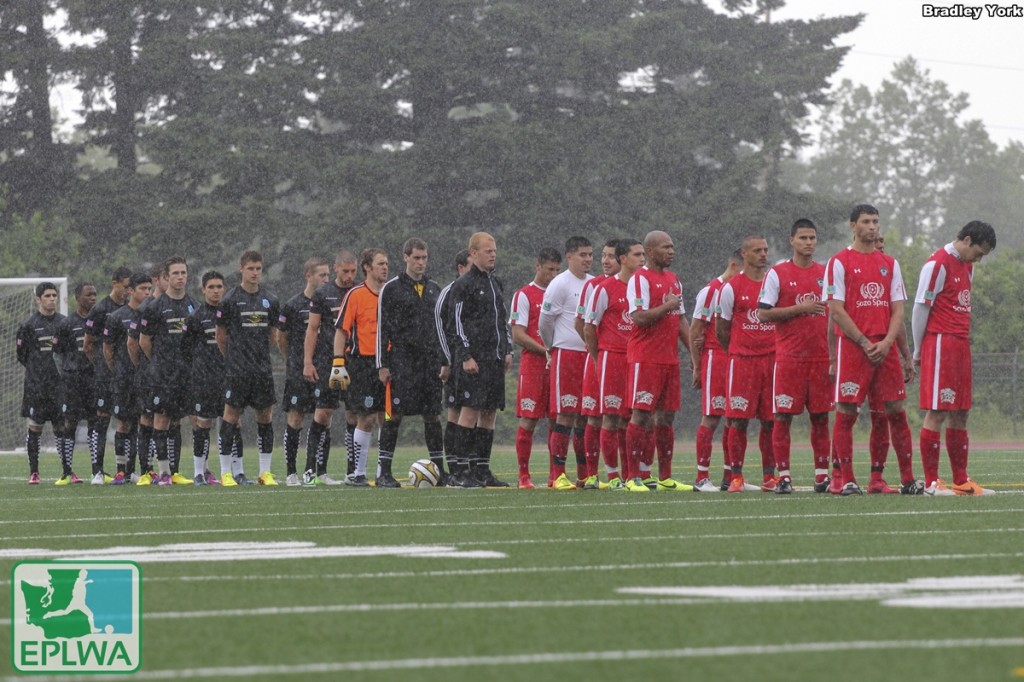 The Victory, wearing their all black kits and running a 4-3-3 with a diamond formation, began pressing from the first whistle. Within minutes, the Victory's Bryanth Garcia threaded the ball to Jordan Jones whose shot forced the Wenatchee keeper, Antonio Gonzalez, to a save and that seemed to set the tone for the match. Yakima's Junior Garcia also sent in some bombers, but to no avail. More shots came on both sides, fast and intense.
One particularly nice run was made when Jordan Jones sent in a nice ball to the head of Tevaughn Harriette, forcing Gonzalez to make the save. Harriette then put another shot on frame off a Garcia assist, but it was handled again by Gonzalez. Then in the 30th minute, wearing all red and running a 4-4-2 formation, the Hoppers struck. Freddy Sanchez sent the ball right up the middle to Hector Valdovinos who rocketed the ball in from 20 yards out. The score was 1-0 Yakima as they celebrated in front the Victory bench.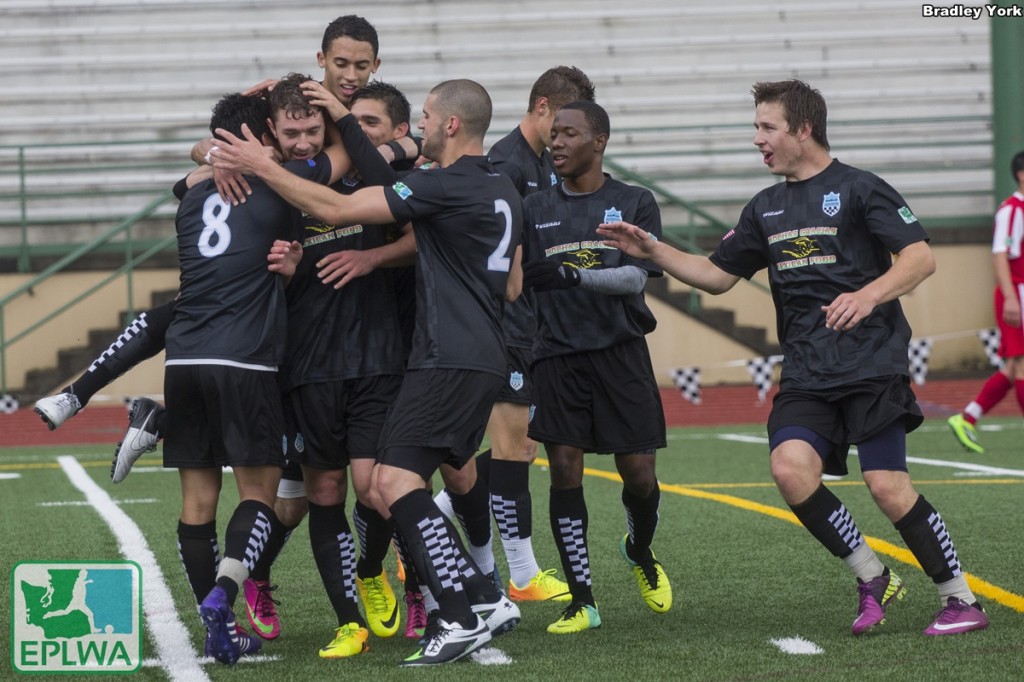 The crew in the all black quickly answered back as Jerson Mejia sent in a wonderful cross from the right and Nick Palodichuk billowed the net, near post; evening the score to 1-1in the 34 minute. The 35th minute saw a spectacular Victory set piece where Esparza shoveled off the kick to Garcia, who shoved it right back to Esparza. He leveled the ball into the box where Victory defender Langdon Roscoe headed the ball in at the far post. 2-1 Victory.
The rain held off for the first half, but it started coming down steadily in the second and that only seemed to stoke the fires on the pitch. The tireless Davis Strawn drew a penalty in the box which Ramic sunk into the lower left net as Gonzalez dove right. 3-1 Victory. Three minutes later, Yakima's Sanchez sent in a stellar corner kick to find the breaching head of Dennis Stevenson to beat Ervin and the Hoppers bring it to 3-2.
Despite great runs by Strawn, Bobby Hutchin, and Ramic, Yakima earned a penalty kick in the 56th minute when the referee called a hand ball. Junior Garcia took the kick with authority, drawing Yakima even at 3-3. But the night was far from done.
At the other end of the pitch in the 65 minute, Bryan Gonzalez sent a corner kick straight into the mixer where Ramic matrixed out of the fray to head the ball into the back of the net. 4-3 Victory.
"It was a great ball in by Gonzo (Gonzalez)… I just really wanted it." Ramic said with a smile. No way were the Hoppers done. The run of play was certainly intense and heated at times, as evidenced by the yellow shown to Strawn, Christian Avier, and Yakima's Abrams. Finally after great saves and attacks on both sides of the pitch, the Hopper's equalized in stoppage time off a great header from Abrams that was flicked back into the box. 4-4.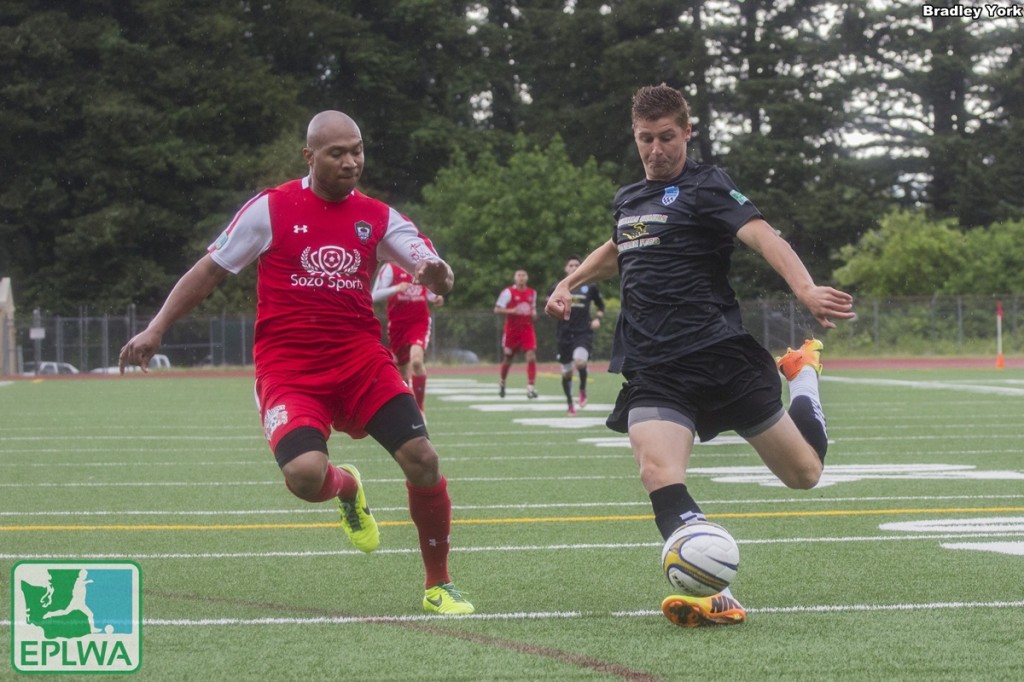 Incredibly, the boys in all black stormed on. In the 94th minute, a free kick was earned for the Victory and Palodickuk sent it in at about 35 yards out. The ball found the head of Strawn and then fell to Jones who pounded it into the back of an open net. 5-4 and the Victory took the game.
Under the steely grey skies, Vancouver Victory FC emerge victorious over a very worthy Yakima United F.C. "Two powerful offenses going back and forth, really tense, a lot of commitment, a lot of heart on our side to get it back. Definitely a battle, I am sure the fans enjoyed it." said Palodichuk.
Cody Guthrie, a hard working central defender seen stopping ball after ball said after the game, "We have a lot of chemistry. We just made sure we stayed tight as a unit and stayed disciplined." And the crew in blue are going to be taking that discipline on the road next weekend to South Sound F.C. on May 24, 7 p.m. Wow, what a weekend for the sea of blue.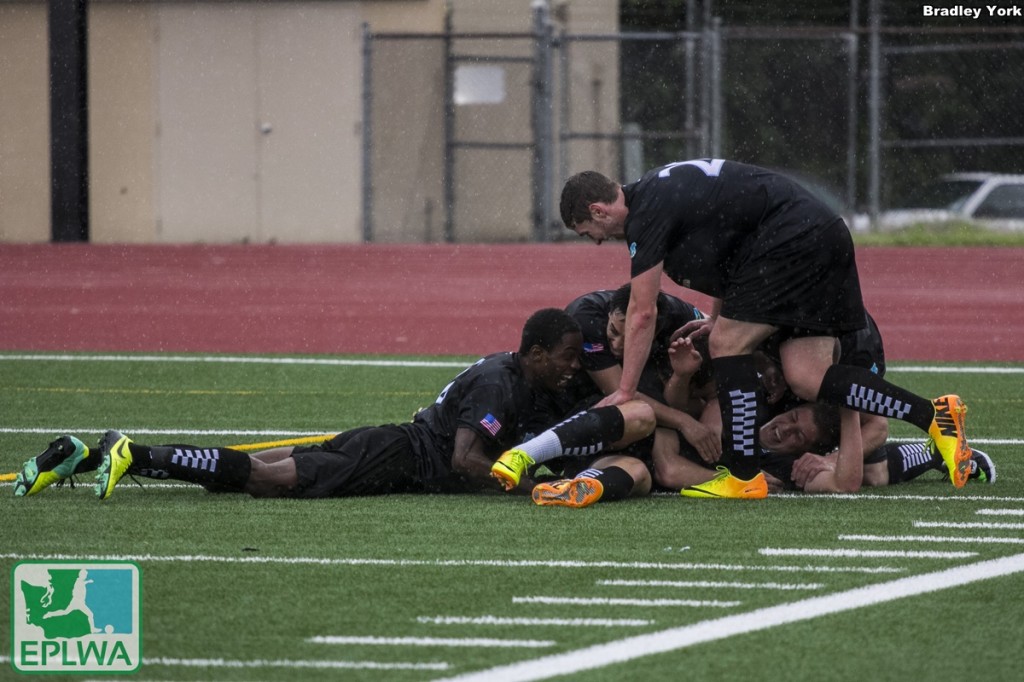 Goals:
YUFC '30 Hector Valdovinos (assist Freddy Sanchez)
V2FC '34 Nick Palodichuk (assist Jerson Mejia)
V2FC '35 Langdon Roscoe (assist Enrique Esparza)
V2FC '47 Mirza Ramic (Penalty Kick)
YUFC ;50 Dennis Stephens (assist Freddy Sanchez)
YUFC '56 Junior Garcia (Penalty Kick)
V2FC '65 Mirza Ramic (assist Bryan Gonzalez)
YUFC '90 Jordan Abrams
V2FC '90+ Jordan Jones (assist Palodichuk and Strawn)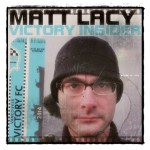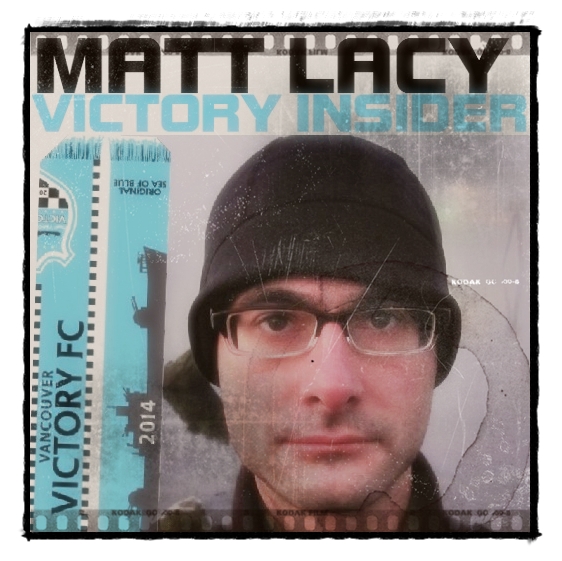 V2FC Insider Reports
May 4, 2014 The Vancouver Victory FC Win Their Home Opener May 4, 2014By Matt Lacy -V2FC Beat WriterVancouver, WA. Our Vancouver Victory FC sailed through their home opener with a strong 4 – 0 win over Westsound FC on a beautiful, rainy Sunday afternoon at McKenzie Stadium. Coach
Biniam Afenegus said, "Even though they are a big, physical team, our boys handled it and played well." In front of 400 plus spectators, our boys in blue really helped launch something special for our fair city in their first home match in the inaugural season of the Evergreen Premier League.
The Goals
In the 18th minute, Borce Atanasov collected a ball from a teammate in the middle of the field and broke down the left side into space created by a stretched backline. He lazered the ball into the nearside of the net, beating a diving keeper, Jordan Hadden.In the 22nd minute, Jerson Mejia was able to collect a loose ball from 24 yards out and crush a goal home with his right boot into the upper far corner of the net.Minute 48 saw Atanasov megged a defender on a cross from the right flank finding Mirza Ramic who finished it from 12 yards outIn the 75th minute, Davis strong crossed the ball finding Jesse Deleon who sprang from the fray in a chaotic box and headed the ball home to close out the scoring.
The Run of Play
Wearing their blue jerseys, white trunks and white socks, our Vancouver Victory pressed early and often. Esparza was linking up well with Atanasov down the sides during the opening minutes. Our backline and midfield controlled well, allowing only one notable cross from WestSound's Marco Lopez, but it was quickly shut down by our defense.The pressure applied by all our boys paid off in the 18th minute when one of Atanasov's shots found the mark and put the Victory in the lead 1-0. "Our team is really coming together," said Atanasov. "There is a lot of team chemistry." At the 22nd minute, Mejia right boots one home from far outside the box, a result of good, consistent pressure in the attacking 3rd and pulling us ahead 20.Ramic got a shot off soon after that required a great save by WestSound goalie Hadden. Wearing all white with black socks, WestSound turned up the intensity at this point. Cameron Stone had a good shot, but it sailed off target and away from keeper V2FC keeper Sean Irvin. WestSound attempted to complete passes and got a few positive runs in, but were continually thwarted.Victory middle defender, Langdon Roscoe, had this to say, "The midfield was playing really strong. The reason it was easy for us on defense and the reason I'm so confident on the ball is because we have midfielders like Dyno (Mejia), Enrique (Esparza), and Jesse (Deleon) that are holding in there and really showing for me so it's easy to play to them… everyone is always so positive so even if I make a mistake I know I have cover." And Roscoe made a number of moves into the middle of
the park to show that confidence and allowed for either continued or regained possession.It was at the 51st minute when Deleon really shipped off down the right side to get the ball to Jordon Jones who did some nifty work to earn a cross. This was a great run of play and it
seemed to mark the frustration of WestSound. They took action. Steven Prevost of the all whites had a good run down the right, but shot the ball off into the right outside of the net and he got another shot off soon after. Both were handled well by Irvin who ended up with a clean sheet for the home side.
Kevin Skinner, Eli Chastain, and Cameron Watson earned yellow cards for WestsSound during this press that lasted around 20 minutes. We were really sailing in the second half. Three minutes in and Borce launched a great cross from the right where Ramic slotted it into the net for a 3- 0 lead.
The Vanguard, the V2FC supporter's group, may have had an influence on the last goal. "Playing in front of them and listening to them just kind of motivates you and makes you want to play harder." says defender Davis Strawn. "So that's what drove me down the line" to make the cross on Jesse's goal."support from the boys in blue and it pulled our team to a convincing 4-0.
From there, our Victory kept the waves rolling into WestSound territory until the end where Scott Schnitzer did some strong work down the right side and Prevost had a good final shot for the visitors but it was handled again by Irvin. His saves throughout really helped keep the WestSound momentum in check. Irvin was indifferent about his performance giving credit to the 10 in front of him, "The shut out all starts with everybody up top, they kept it away from me." About his backline, he says, "It's good. We have got some kinks to work out, but a clean sheet is a clean sheet. We did stuff right." Ramic stated later after the match, "We were hungry, we wanted to win and it showed."
"A New Era Has Dawned" read The Vanguard's banner, commonly know as TIFO in supporter's groups, and it's true. From the stands to the fields, the Vancouver Victory Football Club is something special here in our city and I am proud to be a part of it all.
The Vanguard presented supporter scarves to the team after the match! "That was an awesome thing for the guys! Matt Braddock and the rest of the Vanguard boys really step up and they are our super-fans!, stated team owner Barrett Goddard. "It will be fun to watch them grow along with the team!"
Muchas Gracias is sponsoring Hispanic Heritage Weekend on Saturday May 17th at 6pm against Wenatchee United FC and Sunday May 18th at 4 PM against Yakima at McKenzie Stadium. Go to any Muchas Gracias Restaurant from May 6th until May 18th and receive a 2 for 1 V2FC ticket to either match with a purchase at Muchas Garcias.
General Admission $7. Youth, Seniors and Military $5. Pro-rated season tickets and V2FC merchandise will be available. Muchas Gracias Mexican food and Goldies BBQ will be on site catering in hot food!
Photo Courtesy of Bradley York, Vanguard supporter! V2FC celebrate a goal yesterday at McKenzie Stadium against WestSound FC in the inaugural home match with The Vanguard celebrating in the background!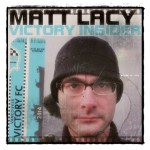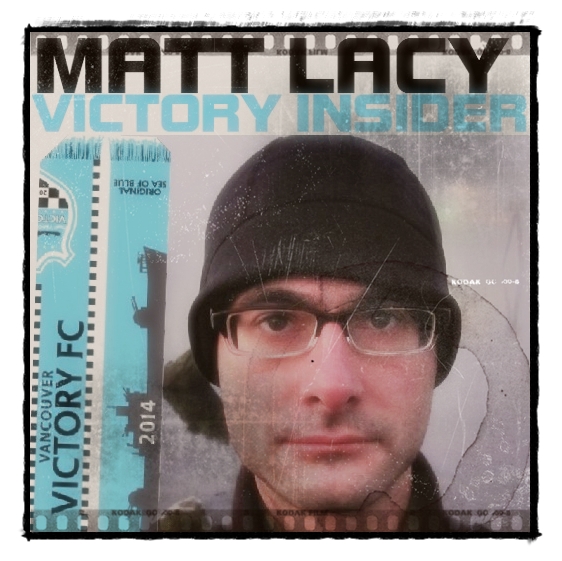 May 2, 2014 V2FC Home Launch
by Matt Lacy (V2FC Beat Writer)
Vancouver, WA.
This Sunday, the Vancouver Victory FC are opening the doors of McKenzie Stadium to the Evergreen Premier League for the first time to welcome WestSound FC from Silverdale, Washington. After a well fought introduction into the season at Bellingham United last weekend, the boys in blue are ready to play in front of their own stands filled with their fans. "I am looking forward to seeing how we bounce back from last weekend." says forward and
acting team captain Mirza Ramic. And it's true, there is a learning curve to any league in their inaugural season where coaches, players, and officials have to learn and adjust. There is no
doubt, they have the skills, the smarts, and the heart to make it happen.
"We have a good base (of players) that know the coach." says keeper Sean Irvin who speaks confidently of his side's ability and excitement to play in front of their own crowd. They will
absolutely be looking to apply the lessons from last weekend, and all preseason really, here at home. "We want to showcase to the community what the Vancouver Victory have to offer… the players are of quality." says Head Coach Biniam Afenegas. "They play good football." Coach Biniam talks of it being a good atmosphere for family and friends to enjoy high level soccer in our own community. When forward Alijah Sacirovic was asked about playing in McKenzie Stadium for the first time in front of their own supporters, he says with a laugh, "You want to impress way more."
Here are some things I am going to be on the lookout for during this battle:
1. Match intensity. Last weekend, our V2FC suffered an away loss (2-0) to Bellingham United FC. WestSound FC fell at their home opener (ouch) to South Sound FC (2-0). After the losses, both teams made comments regarding learning the league style and growing accustomed to some physicality. As a result, I expect to see a lot of skill, but we may also see a few hits as both sides look to establish their place in the pecking order.
2. Intensity surrounding positions within the individual sides. Both teams have reported that they are expecting an influx of new players in the coming weeks, some from college programs and
others from overseas. So, their rosters are not entirely set, leaving some of these athletes little time to make their case on the field before new talent arrives.
3. The connectivity within the V2FC defense. We have some great individual road blockers Back there that know how to defend, now I'll be watching for how they keep their shape when stressed.
4. Attacking boys in blue. The V2FC have some real cannons, spacemakers, and pass completers in both their forward and midfield lineups. They missed stating forward Borce Atanasov who was out with a virus last weekend but is expected to play on Sunday. This group is going to want to prove it after getting shut out last weekend.
5. Bolting WestSound FC wingers. By all reports, it seems as though these fellas have some moves down the flanks.
6. Activity in the stands. We know family and friends looking for good, local soccer are going to be in the stands this Sunday afternoon. But on this particular Sunday, I am going to be watching
The Vanguard; a friendly, active supporters group who have been making scarves, stickers, banners, chant sheets and God knows what else throughout the preseason. They should be welcome additions and may have something special for the opening match.
We'll see this Sunday at 2 p.m. when our Vancouver Victory FC take on WestSound FC for their first home game in their inaugural season. The doors open at McKenzie Stadium at 1p.m. $7 general admission, $5 for youth, season tickets and merchandise will be available. Youth players in their soccer uniforms get in free this weekend with an adult general admission purchase.
Food will be catered in by Muchas Gracias and Goldies BBQ! Sounds like a great time this Sunday!