vs

May 4, 2014
Score: 4 - 0
Match Report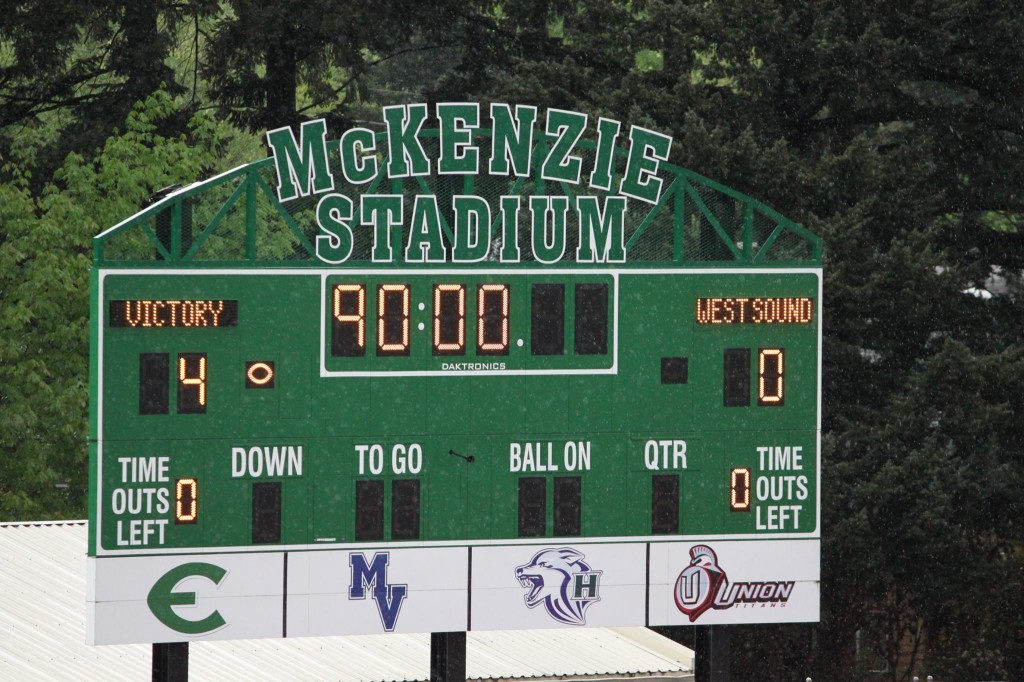 The Vancouver Victory FC Win Their Home Opener May 4, 2014
By Matt Lacy -V2FC Beat Writer
Vancouver, WA. Our Vancouver Victory FC sailed through their home opener with a strong 4 – 0 win over Westsound FC on a beautiful, rainy Sunday afternoon at McKenzie Stadium. Coach
Biniam Afenegus said, "Even though they are a big, physical team, our boys handled it and played well." In front of 400 plus spectators, our boys in blue really helped launch something
special for our fair city in their first home match in the inaugural season of the Evergreen Premier League.
The Goals.
In the 18th minute, Borce Atanasov collected a ball from a teammate in the middle of the field and broke down the left side into space created by a stretched backline. He lazered the ball into the nearside of the net, beating a diving keeper, Jordan Hadden.
In the 22nd minute, Jerson Mejia was able to collect a loose ball from 24 yards out and crush a goal home with his right boot into the upper far corner of the net.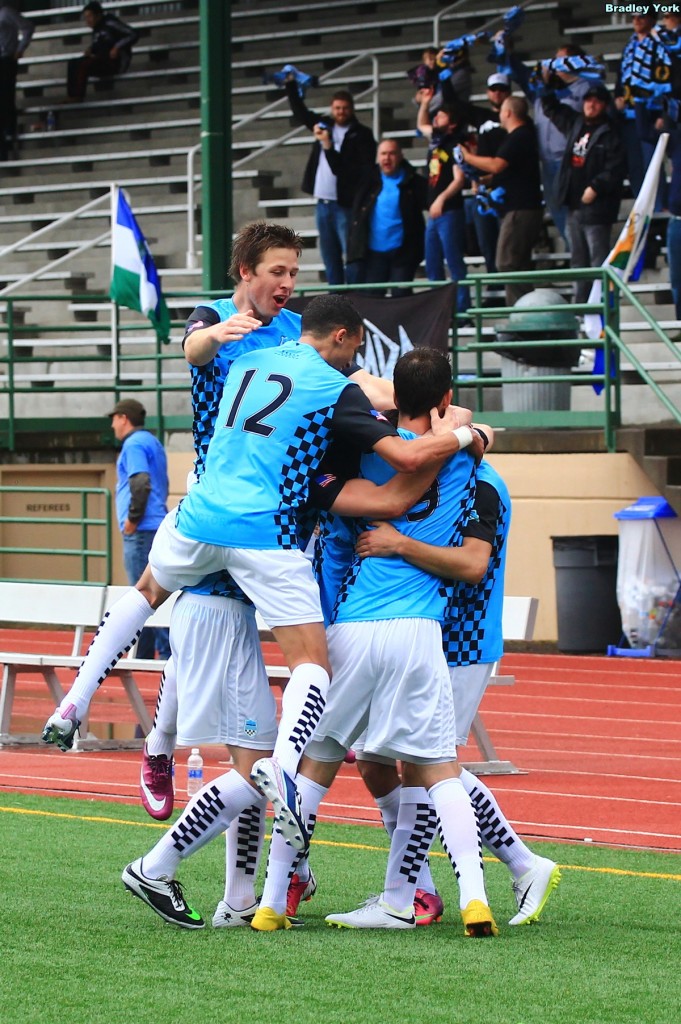 Minute 48 saw Atanasov megged a defender on a cross from the right flank finding Mirza Ramic who finished it from 12 yards out
In the 75th minute, Davis strong crossed the ball finding Jesse Deleon who sprang from the fray in a chaotic box and headed the ball home to close out the scoring.
The Run of Play
Wearing their blue jerseys, white trunks and white socks, our Vancouver Victory pressed early and often. Esparza was linking up well with Atanasov down the sides during the opening minutes. Our backline and midfield controlled well, allowing only one notable cross from WestSound's Marco Lopez, but it was quickly shut down by our defense.
The pressure applied by all our boys paid off in the 18th minute when one of Atanasov's shots found the mark and put the Victory in the lead 1-0. "Our team is really coming together," said Atanasov. "There is a lot of team chemistry." At the 22nd minute, Mejia right boots one home from far outside the box, a result of good, consistent pressure in the attacking 3rd and pulling us ahead 20.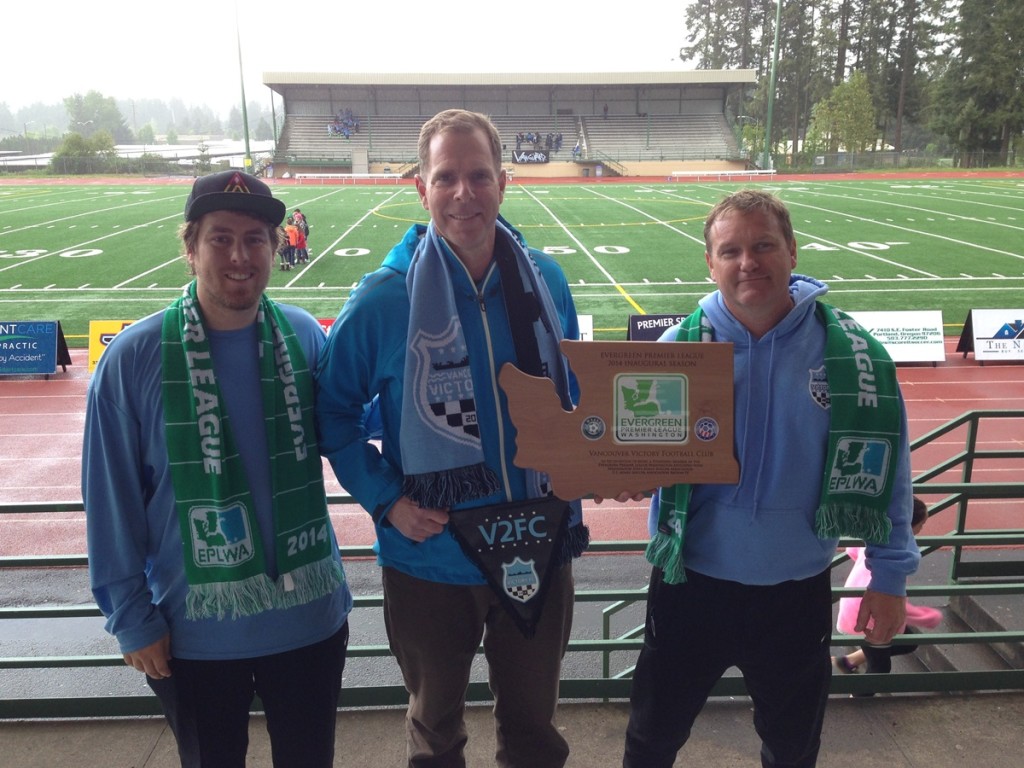 Ramic got a shot off soon after that required a great save by WestSound goalie Hadden. Wearing all white with black socks, WestSound turned up the intensity at this point. Cameron Stone had a good shot, but it sailed off target and away from keeper V2FC keeper Sean Irvin. WestSound attempted to complete passes and got a few positive runs in, but were continually thwarted.
Victory middle defender, Langdon Roscoe, had this to say, "The midfield was playing really strong. The reason it was easy for us on defense and the reason I'm so confident on the ball is because we have midfielders like Dyno (Mejia), Enrique (Esparza), and Jesse (Deleon) that are holding in there and really showing for me so it's easy to play to them… everyone is always so positive so even if I make a mistake I know I have cover." And Roscoe made a number of moves into the middle of
the park to show that confidence and allowed for either continued or regained possession.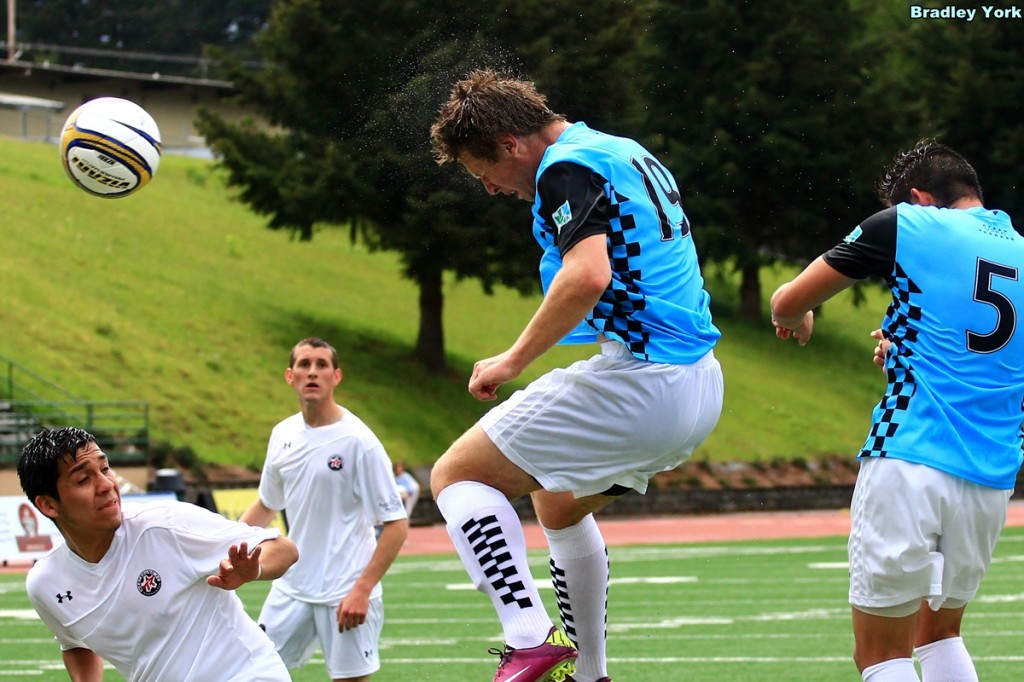 It was at the 51st minute when Deleon really shipped off down the right side to get the ball to Jordon Jones who did some nifty work to earn a cross. This was a great run of play and it
seemed to mark the frustration of WestSound. They took action. Steven Prevost of the all whites had a good run down the right, but shot the ball off into the right outside of the net and he got another shot off soon after. Both were handled well by Irvin who ended up with a clean sheet for the home side.
Kevin Skinner, Eli Chastain, and Cameron Watson earned yellow cards for WestsSound during this press that lasted around 20 minutes. We were really sailing in the second half. Three minutes in and Borce launched a great cross from the right where Ramic slotted it into the net for a 3- 0 lead.
The Vanguard, the V2FC supporter's group, may have had an influence on the last goal. "Playing in front of them and listening to them just kind of motivates you and makes you want to play harder." says defender Davis Strawn. "So that's what drove me down the line" to make the cross on Jesse's goal."support from the boys in blue and it pulled our team to a convincing 4-0.
From there, our Victory kept the waves rolling into WestSound territory until the end where Scott Schnitzer did some strong work down the right side and Prevost had a good final shot for the visitors but it was handled again by Irvin. His saves throughout really helped keep the WestSound momentum in check. Irvin was indifferent about his performance giving credit to the 10 in front of him, "The shut out all starts with everybody up top, they kept it away from me." About his backline, he says, "It's good. We have got some kinks to work out, but a clean sheet is a clean sheet. We did stuff right." Ramic stated later after the match, "We were hungry, we wanted to win and it showed."
"A New Era Has Dawned" read The Vanguard's banner, commonly know as TIFO in supporter's groups, and it's true. From the stands to the fields, the Vancouver Victory Football Club is something special here in our city and I am proud to be a part of it all.
The Vanguard presented supporter scarves to the team after the match! "That was an awesome thing for the guys! Matt Braddock and the rest of the Vanguard boys really step up and they are our super-fans!, stated team owner Barrett Goddard. "It will be fun to watch them grow along with the team!"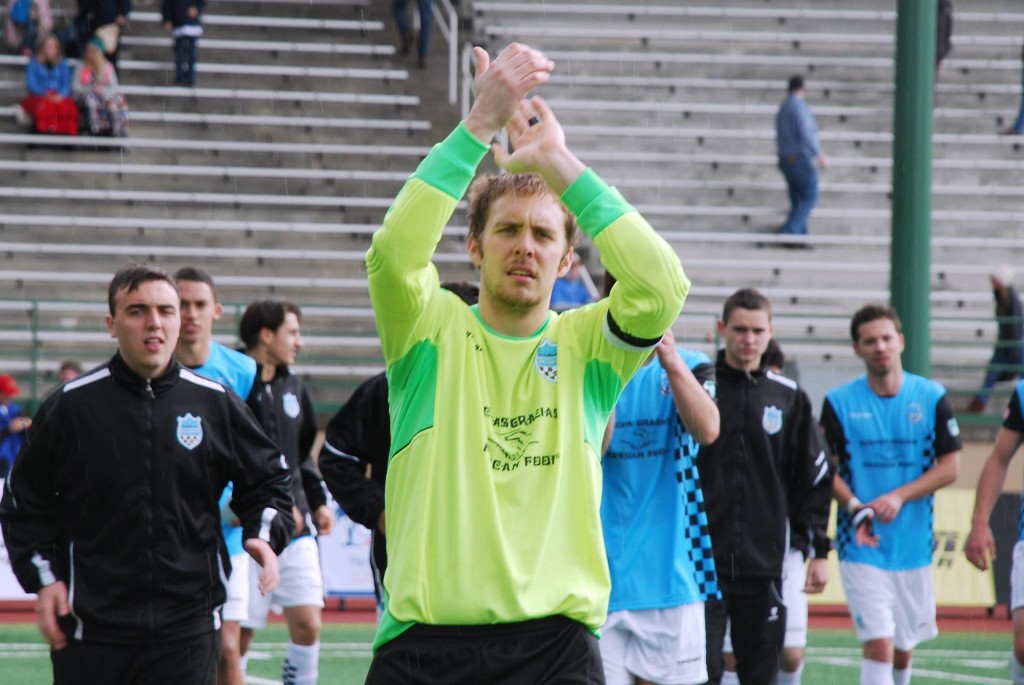 Muchas Gracias is sponsoring Hispanic Heritage Weekend on Saturday May 17th at 6pm against Wenatchee United FC and Sunday May 18th at 4 PM against Yakima at McKenzie Stadium. Go to any Muchas Gracias Restaurant from May 6th until May 18th and receive a 2 for 1 V2FC ticket to either match with a purchase at Muchas Garcias.
General Admission $7. Youth, Seniors and Military $5. Pro-rated season tickets and V2FC merchandise will be available. Muchas Gracias Mexican food and Goldies BBQ will be on site catering in hot food!