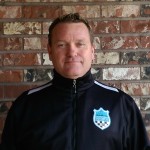 Barrett Goddard
Owner, General Manager
Barrett Goddard has been involved in soccer as a player and coach since 1970. Growing up in the Federal Way Youth Soccer programs he was part of building one of the hottest areas in the United States for soccer talent.
Goddard graduated from Federal Way High School and played on the club team at Washington State University in Pullman for two seasons where he received his Bachelor's in Sport Management with a Minor in Coaching. He also spent six years in the US Air Force where he played for six seasons with various base and regional military teams. In those six seasons, he started on teams that won two All-USAF Command tournaments and was selected to the All-Commend Team twice.
Barrett moved to Vancouver, Washington in 1992 and began coaching youth and high school teams in the area. He also was the Assistant Coach under Chuck Hart at Clark College. In 1997, Clark College won their first NWAACC Soccer Championship. Goddard and the rest of that Clark team were inducted into the NWAACC Hall of Fame in 2007. They were also inducted into the Clark College Hall of Fame in 2014. Along with his championship at Clark, Barrett has won four other state championships with youth teams in Clark County as a Coach. He currently holds a USSF D License.
Barrett has been married to his wife Sylvia for 29 years. Together they have three children Nathan, Brenna and Cameron, along with a son-in-law, David Silliman, a daughter-in-law, Lindsey, and a grandson, James Silliman.