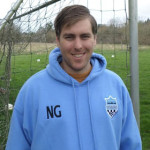 Nathan Goddard
Director of Marketing
Nathan Goddard has been involved with soccer as a player or coach for 20 years. He grew up playing soccer in Clark County playing for Orchards, Columbia Premier, Evergreen, FC Vancouver and Westside. Nathan played Varsity soccer at Ridgefield HS where he helped them get to the state finals as a freshman. As a player, Nathan has won a state championship and lost in the finals twice.
Nathan has coached soccer in Clark County for the past four years. In that time, he has coached the Little Kickers Program and helped his BU-19 team reach the state semifinals. Goddard has a passion for soccer and watches several professional games from around the world each week.
He follows player movements in MLS, EPL, La Liga, Bundesliga, Liga MX, Ligue 1 and other leagues around the world. Nathan just completed his Associate's Degree from Clark College and will be attending school in the fall to complete his business degree. He is handling the marketing aspects of V2FC and has been busy helping to establish the business side of the organization. Nathan is also an accomplished skier specializing in open skiing, slope style and stunts on jumps, rails and boxes.
Nathan is married to his wife, Lindsey.