SPOKANE, WA—A day after South Sound FC jumped into the number one spot the Vancouver Victory took it back with their first-ever win over the Spokane Shadow. The Victory (4-0-0, 12 points) got goals from Borce Atanasov and Alex Nimo. They posted the third shut out in league play this season with Jordan Farr in goal. (Read Spokane match report here.)
In the 35th minute Atanasov collected a ball from about 22 yards out and juked two defenders by cutting to the right. He stepped around and fired a shot from the top of the box that was tipped but went in for a 1-0 V2FC advantage.
In the 78th minute Alex Nimo double the visitor's total. Center Back James Williamson, who had a large contingent of family and friends at the match from across the Idaho border, took a long throw-in that ended up at the feet of Nimo just a few yards out in the penalty box. Nimo finished with a side volley to make it 2-0.
In 2014 the clubs had played to a 1-1 draw in Spokane and a 2-1 Shadow win at Vancouver.
Now the defending EPLWA champions have managed just one point from their first two home matches, and stand 1-1-1 on the season with four points. Last year the Shadow started 0-0-2 with two straight home losses before running off a long streak that led to the title.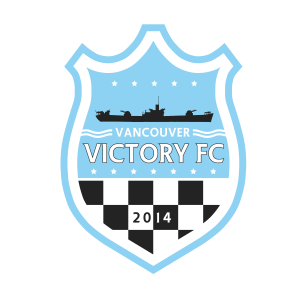 V2FC Head Coach Aaron Lewis is pleased with his side's progress. "The defensive effort from every player that traveled this weekend was the story of the match. Our back line worked very well together, and the cohesiveness between our lines was as good as I've seen so far this year. This group of players has the ability to generate opportunities to score game in and game out, and if they can continue to establish our identity as an organized, committed defensive unit, we'll be difficult to beat."
Lewis foresees a fun summer in Vancouver, but knows that hard work can't take a day off. "What I have been most impressed with this team so far is their day to day professionalism. I foresee that professionalism carrying over again into training this week as they realize a good start doesn't make a season."
Vancouver leads the league in goals scored (13) and least goals allowed (4). The Victory have spread around their attack. Nine different players have combined to score their 13 goals.
The Shadow have a week off before hosting Yakima United FC Saturday night May 30 at 7 PM at Spokane Falls CC Stadium. Vancouver returns home to host Wenatchee FC on Sunday May 24 at 2 PM at McKenzie Stadium.
| | | | | | | | | |
| --- | --- | --- | --- | --- | --- | --- | --- | --- |
| EVERGREEN PREMIER LEAGUE | Pts | GP | W | L | T | GF | GA | GD |
| VANCOUVER VICTORY FC | 12 | 4 | 4 | 0 | 0 | 13 | 4 | +9 |
| SOUTH SOUND FC | 10 | 4 | 3 | 0 | 1 | 12 | 5 | +7 |
| SEATTLE STARS FC | 7 | 4 | 2 | 1 | 1 | 9 | 7 | +2 |
| WENATCHEE FC | 6 | 4 | 2 | 2 | 0 | 8 | 11 | -3 |
| SPOKANE SHADOW | 4 | 3 | 1 | 1 | 1 | 9 | 5 | +4 |
| YAKIMA UNITED FC | 4 | 4 | 1 | 2 | 1 | 7 | 6 | +1 |
| OLYMPIC FORCE | 0 | 3 | 0 | 3 | 0 | 3 | 10 | -7 |
| BELLINGHAM UNITED FC | 0 | 4 | 0 | 4 | 0 | 4 | 17 | -13 |