RIDGEFIELD, WA—Vancouver Victory FC dropped a home match for the first time in the 2017 after a 2-1 loss at Ridgefield Stadium on Tuesday night June 27.
The night was beautiful with both mountains shining in the background 75 and sunny at kickoff with 190 in attendance.
The game was well played. Oly Town started out defensively and the Victory controlled the early going. Getting two very good opportunities to score in the first two minutes but were not able to cash in.
The game settled in with Victory creating 3-4 more shots. Oly Town mounted there first attack in the 13th minute and were able to get a near post volley goal by Blake McMillian off of a nice corner kick set piece by  Gabriele Zaccagnini.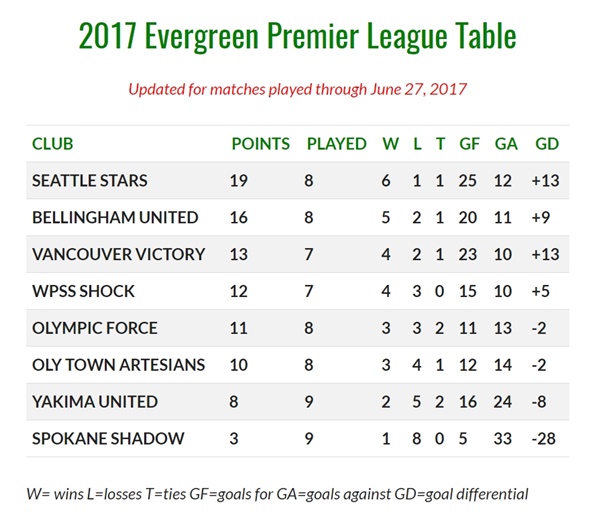 The rest of the half was the Victory controlling most of the ball and shots while Oly Town set in defensively. Despite out shooting the visitors 11-2 the score was 0-1 at halftime.
The second half was more of the same. But Oly Town scored a really nice goal from 25 yard out with a beautiful drive that beat Miguel Martin in the 49th minute. With the two goal lead, Oly town locked in.
The Victory got one back 6 minutes when Nate Cheney headed in a header cross from Bobby Hutchin. The rest of the match was Victory attacking and shoot but not getting the equalizer. One shot hit the cross bar and their goalie made two nice saves. They also cleared two balls off of the line.
"Tonight was frustrating for the guys, the coaches and the fans," said V2FC Head Coach Troy Ready. "We probably deserved more than 0 points. When you get early chances and don't get those goals, the other team can set in and you may not get them again. We have to be better going forward on finishing those chances and locking our points. We still control our own destiny which is all you can hope for halfway through the season."
The Victory go on the road this weekend to play Spokane on Saturday at 3 PM and then play in Yakima on Sunday.