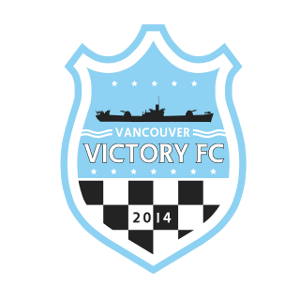 Vancouver Victory FC were sailing along in the Evergreen Premier League, scoring goals in bunches. Last week that flourish of offense suddenly stopped as V2FC were shut out 1-0 in a friendly at Lane United and more importantly also 1-0 in a league match at Wenatchee. With other results now in the Victory know that their hold on first place has gone from solid to tenuous. Vancouver now has a 7-1-0 record in league and 21 points. South Sound FC have played eight matches as well and have 17 points with a 5-1-2 record. The defending EPLWA champion Spokane Shadow are sneaking up once again. They have a match in hand over V2FC and South Sound, and currently have 14 points on a 4-1-2 record.
"Our group unfortunately was not able to overcome a solid Wenatchee team on Saturday, and a difficult road trip," said Head Coach Aaron Lewis. "We are reminded through this weekend's result that we have to remain focused on how each of us can impact the game for the entire 90 minutes. This group of experienced players are extremely excited about the opportunity we have at hand, and we remain hungry to prove that the Victory are the best team in this league."
In Wenatchee the Victory gave up a goal in the 49th minute to Adrian Espinoza. The Capitals held on for the win, though both sides were tested before the final result.
Vancouver is heading down the home stretch in the race for the Evergreen Premier League top of the table and thus the league championship. Sunday June 21 is an exciting double header featuring the PDL Timbers U23 and Sounders U23 playing at 2 PM and the Victory and Seattle Stars kicking off at 5 PM. This is an important match for the Victory. They will be training hard to beat Seattle and regain some offensive form.
Beyond Sunday's match, both contests with South Sound remain to be played, as well as a home encounter with the Spokane Shadow.
The Victory have played hard enough and well enough to set themselves up for a fantastic finish. Last weekend proved that won't come easy.
Vancouver does end the year this way: four straight home matches at McKenzie Stadium.
| | | | | | | | | |
| --- | --- | --- | --- | --- | --- | --- | --- | --- |
| EVERGREEN PREMIER LEAGUE – 2015  | Pts | GP | W | L | T | GF | GA | GD |
| VANCOUVER VICTORY FC | 21 | 8 | 7 | 1 | 0 | 26 | 7 | +19 |
| SOUTH SOUND FC | 17 | 8 | 5 | 1 | 2 | 26 | 11 | +15 |
| WENATCHEE FC | 15 | 9 | 5 | 4 | 0 | 20 | 25 | -5 |
| SPOKANE SHADOW | 14 | 7 | 4 | 1 | 2 | 18 | 8 | +10 |
| YAKIMA UNITED FC | 10 | 9 | 3 | 5 | 1 | 20 | 22 | -2 |
| SEATTLE STARS FC | 10 | 8 | 3 | 4 | 1 | 15 | 20 | -5 |
| OLYMPIC FORCE | 9 | 9 | 3 | 6 | 0 | 20 | 28 | -8 |
| BELLINGHAM UNITED FC | 0 | 8 | 0 | 8 | 0 | 7 | 31 | -24 |