PUYALLUP, WA–-Sometimes it doesn't go your way no matter how hard you try. Especially when you suffer a bizarre own goal. Vancouver have lessons to learn after Saturday's 2-1 defeat to Washington Premier South Sound.
Isidro Prada-Huerta scored in the first half on a corner kick from 4 yards out on the back post as he slipped inside one of the V2FC defenders for a clean header. 1-0 Shock.
Later in the first half Nic Farr played a ball back to V2FC goalkeeper Marco Gonzalez. He was 45 yards out next to the sideline. He meant to chip it back to Marco who was playing a high line about 25 yards out. Right when he went to chip it the ball bounced up and he ended up driving it like a volley right over Marco's head. Marco tried to recover but the ball had too much pace. That put WPSS up 2-0.
Vancouver had a nice run of play in the first half and had created some nice crosses across the WPSS box a few times but couldn't get off shots. The Shock were very effective with the counter attacks and both JJ Schmeck and Huerta had a nice opportunity each but were not successful in scoring.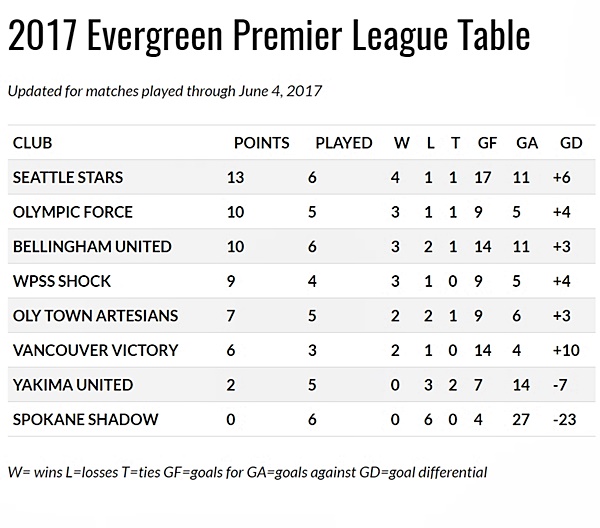 V2FC subbed in 5 guys at half and began to create more chances and took more control of the match. WPSS also had three guys go down in the 2nd half and were getting thinner and tired. Vancouver scored on a nice corner kick that was flicked on at the near post by Andrew Boyd and volleyed home by Nat Cheney who had come in at half.
V2FC had a nice chance three minutes later when Bobby Hutchin intercepted a pass along the back line. He dribbled in 25 yards and was stuffed by the keeper 1 v 1 inside the penalty box.
The Victory kept them under pressure and created more chances but could not get a shot in through their packed in defense.
The Victory hit the Shock cross bar in the 87th minute on a driven shot that bounced down and then came out. GM Barrett Goddard says it was a very close call.
"We were too far away but John Crouch (Shock founder) told me after the game that he thought it bounced in and then came out. But the goal wasn't given and we ended 2-1."
Vancouver travels to Bremerton on Saturday June 10 to face the Olympic Force at 5:45 PM at Gordon Field. The Force are off to their best-ever start and currently stand second in the table.
Quotes
Troy Ready, V2FC Head Coach: We were a little unlucky today with the own goal and hitting the cross bar. I'm proud of the guys. This is the first time we faced adversity down 2-0 at half and the guys responded very positively. We knew this would be a tough test today and the teams were very even. We are still in a good spot and will build on this match.
Barrett Goddard, V2FC GM: Today was a good day of soccer. Both teams played well, the match was clean and the officiating was solid. The difference in the match was the weird own goal. Both John Crouch and Adam Becker said as much graciously after the match. We played a very similar game with them up here last year and it ended 2-1 us. So obviously we are very even squads.