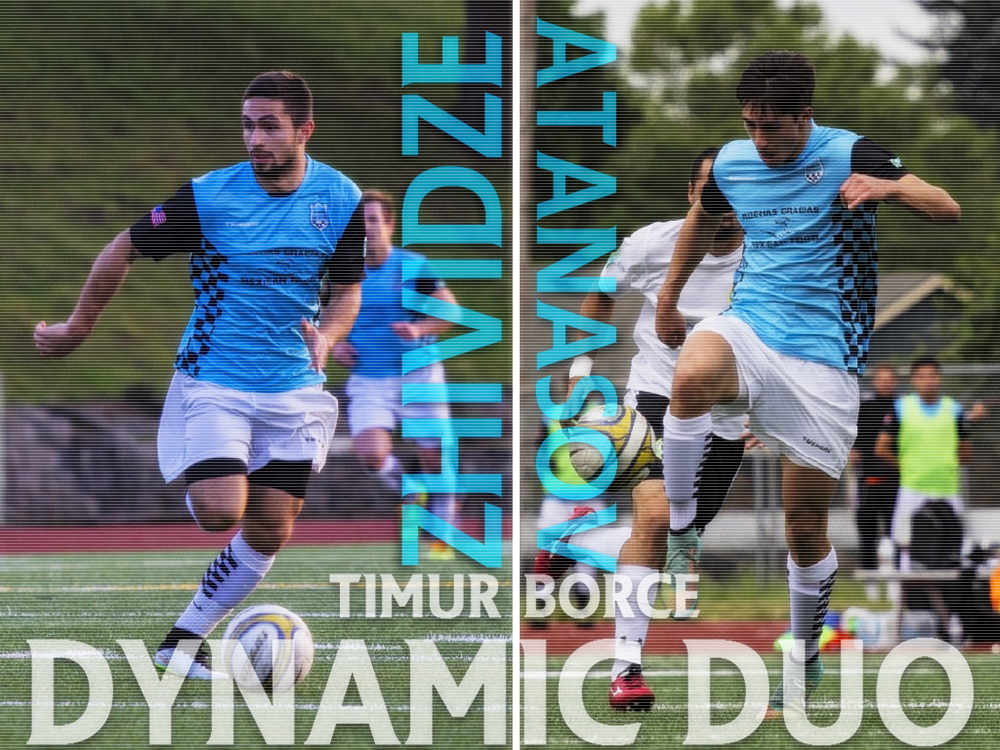 The hottest team in the EPLWA got even hotter as V2FC (7-0-0, 21 points) scored a six-pack to romp past Seattle (2-4-1, 7 points) at Goddard Stadium in Everett on June 6th.
It was a showcase match for Vancouver forwards Borce Atanasov and Timur Zhividze. They were two of six different goal scorers for the table leaders. Beyond that, they combined for five assists. Onlookers described them as "unstoppable." It did take until the 22nd minute for Vancouver to begin their outburst.
Nate Cheney got his second goal of the season off an assist from Timur Zhividze. Timur got his sixth goal of the year next, off the first assist from Atanasov, in the 31st. Borce's second assist came just five minutes later when Alex Segovia got his fourth goal of the season in the 36th minute.
The rout was on in the 41st when V2FC made it 4-0 when Atanasov got his goal thanks to a corner kick from Danny Segovia. In the 62nd minute the Stars got one back as Bastien Catrin converted a penalty kick. The Victory then added on two more to run away.
Ben Culpan scored his first goal in the 80th (Atanasov's third assist of the match) and Ian Farley got his third of the year in the 90th (second assist of the match for Zhividze.)
"Our attackers continue to be a significant problem for opponents, while impacting the league in a big way this season," says V2FC head coach Aaron Lewis. "Having six different players score goals in Seattle is a sign of a deep team, committed to playing as a unit. When a  group establishes trust with the ball, the movement off the ball becomes sharper, better coordinated and more frequent. If that trend continues, it will be extremely difficult for teams to slow us without sacrificing their own attack."
Vancouver travels to PDL club Lane United on Wednesday June 10th. The Victory return to league play on Saturday June 13 when the guys travel to third place Wenatchee FC for a 6 PM kickoff at Wenatchee Valley CC.
Lewis says the best is yet to come. "Being through half of our season with maximum points is great, mainly because it validates the type of work that the players have invested. The organization remains hungry to improve, and that again will be our focus heading into another important week."
| | | | | | | | | |
| --- | --- | --- | --- | --- | --- | --- | --- | --- |
| EVERGREEN PREMIER LEAGUE – 2015  | Pts | GP | W | L | T | GF | GA | GD |
| VANCOUVER VICTORY FC | 21 | 7 | 7 | 0 | 0 | 26 | 6 | +20 |
| SOUTH SOUND FC | 17 | 7 | 5 | 0 | 2 | 23 | 7 | +16 |
| WENATCHEE FC | 12 | 8 | 4 | 4 | 0 | 19 | 25 | -6 |
| SPOKANE SHADOW | 11 | 6 | 3 | 1 | 2 | 14 | 5 | +9 |
| YAKIMA UNITED FC | 10 | 8 | 3 | 4 | 1 | 18 | 18 | 0 |
| SEATTLE STARS FC | 7 | 7 | 2 | 4 | 1 | 11 | 18 | -7 |
| OLYMPIC FORCE | 6 | 8 | 2 | 6 | 0 | 16 | 26 | -10 |
| BELLINGHAM UNITED FC | 0 | 7 | 0 | 7 | 0 | 5 | 27 | -22 |